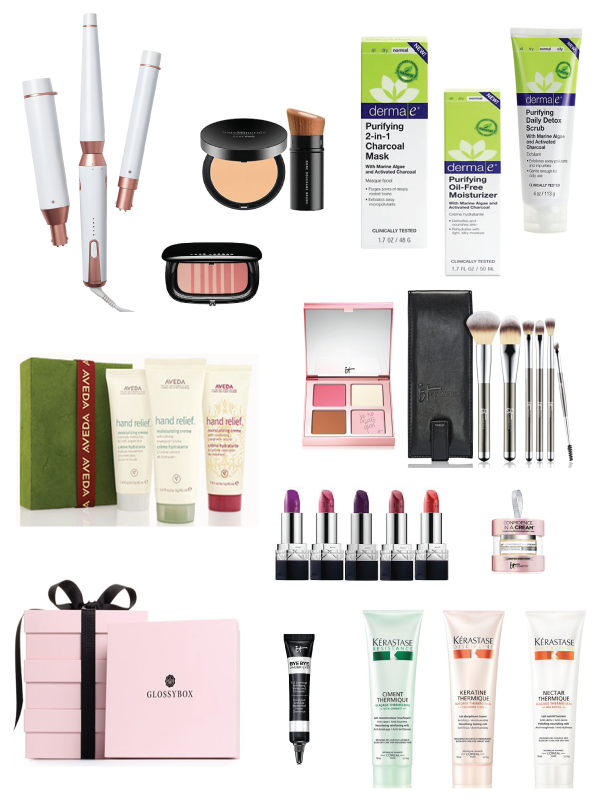 Happy Holidays guys! I am complied a list of some of my favorite beauty products I've used over the last year.  From natural facial products to curling irons, I've got all of your beauty gift guide 2016 needs covered.
Ladies and gents, I am going to give you a quick run down of each product (clockwise)! Ok, here we go….
The T3 Whirl Trio curling iron has 3 different styling barrels for endless options.  The tourmaline and ceramic barrels seal the hair creating beautiful shine.  It won the coveted Allure best of beauty award for 2015 and 2016.  Any chica on your list who uses a curling iron will love this piece!
Barepro Performance Wear Powder Foundation – 12 hour wear with 90% vitamins and minerals for a beautiful completion.  I high recommend the brush with it.
Marc Jacobs Beauty sent me their air brush soft glow duo blush in the most incredible disco party box with lights and music and I'ver been hooked ever since! For the perfect dance floor flushed glow,  these are a must!
If you're recipient is a naturalist, they'll love Derma E's activated charcoal line. I use these earth, animal and skin friendly products when I want to mix up my skin routine with something mother nature created rather than chemicals. Their purifying 2 in 1 mask charcoal mask is the best at naturally sucking the toxins out of the skin!
IT Cosmetics Holiday gifts for the IT girl – I am BANANAS about their Superhero anti aging eye shadow palette (not pictured) that includes eye foundations, nudes, neutrals and liners.  Superhero Elastic Stretch volumizing mascara does not disappoint. I am really looking forward to using IT's Je Ne Quoi Completion Perfection this holiday season.  It contours and highlights in all the right place to enhance your natural beauty.  It's always a smart move to buy your makeup brushes in a holiday pack.  I really like the limited edition Heavenly Luxe 6 piece bush kit (cruelty free hair) that IT brought back by popular demand.  Confidence in a cream in one of their best sellers! Your special someone can try the holiday ornament size for only $16.  Make the perfect stocking stuffer.
Dior Rouge Lipstick is my new favorite! I have been wearing almost all of their matte and satin shades in my photoshoots lately! Dior Rouge Lipstick #999 is wildly popular right now.
Kerastase is hands down my favorite hair care line.  Get it for you and your people!  Their products have by far been the most transformative for my hair.  With it's advanced research and team of scientists working round the clock to solve your specific hair concerns, you really are paying for the best.  Their heat protecting serums are my new favorites.  Honestly, everything is awesome. Be sure to diagnose your hair in order to lead you to the right products.
It Cometics Bye Bye Under Eye anti aging concealer is quickly becoming a staple in most makeup bags.
The Glossybox subscrirption service is the gift that keeps on giving.  Excite your loved ones with a beauty boxed filled with multiple products each months for as long as you choose.  it really is so fun to get that monthly surprise.
Aveda is anther great option for the naturalists in your life.  Who wouldn't love a gift of renewal with this cruelty free hand and foot cream package.
I did it and now I am out of breath! That was a lot of info! Please enjoy these incredible holiday beauty gift guide 2016 items…I know your loved ones will! xo