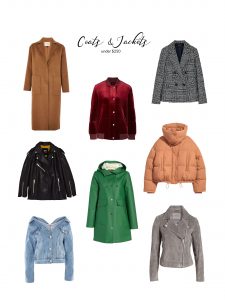 Hi hi! Is it really Wednesday already? I can't believe how quickly fall is flying by. Today's post is all about Fall 2017 Coats and Jackets Under $250! Unless you are living in the tropics (jealous), every day for the next little bit (or five months here in Utah) will require some sort of outerwear. Why not make every day stylish and amazing?
Camel Coat | Burgundy Bomber | Plaid Blazer 
Zara Leather | Pendleton Rain Coat | H&M Puffer
For extreme temperatures, get the most warmth and jaw drops from this Pendleton rain coat, it's waterproof and works really well with layered sweaters.  Next, I am dying over this affordable H&M puffer! First of all, the nude color and cut is killer (Kanye Season 3 vibes) and the price is unbeatable. 
If the weather is mild, try either of these sophisticated looks. This Zara plaid blazer or TopShop camel coat. Here's the thing, I have searched high and low for the best plaid blazer and this one takes the cake. It is cut so well and the pattern is by far the best. The Topshop camel is a great affordable option for a long coat. I love how trimming the shape is and camel is an essential Fall color.
If you're going out, and just need something to wear in between the car and holiday party, this suede number is great. The grey is light but still wintery. Another great suede option is this red biker jacket. The Zara leather in the photo is bit more substantial and will keep you toasty, yet chic. I especially love the placement of zippers on this piece. Usually I am wary of faux leathers/vegan leathers, but this one is good news (for the critters too).
Last but not least with the Fall 2017 Coats and Jackets Under 250 spread, if you want more of a statement feel, go with the bomber or denim. The bomber is a burgundy velvet material (so beautiful), talk about an unstoppable combo. This restructured denim will turn heads! Seriously, it's so chic and right on trend.  Show off the collar bones with it's off the shoulder cut. 
Thanks friends, have a great rest of the week! I hope you enjoyed my Fall 2017 Coats and Jackets Under 250 post!