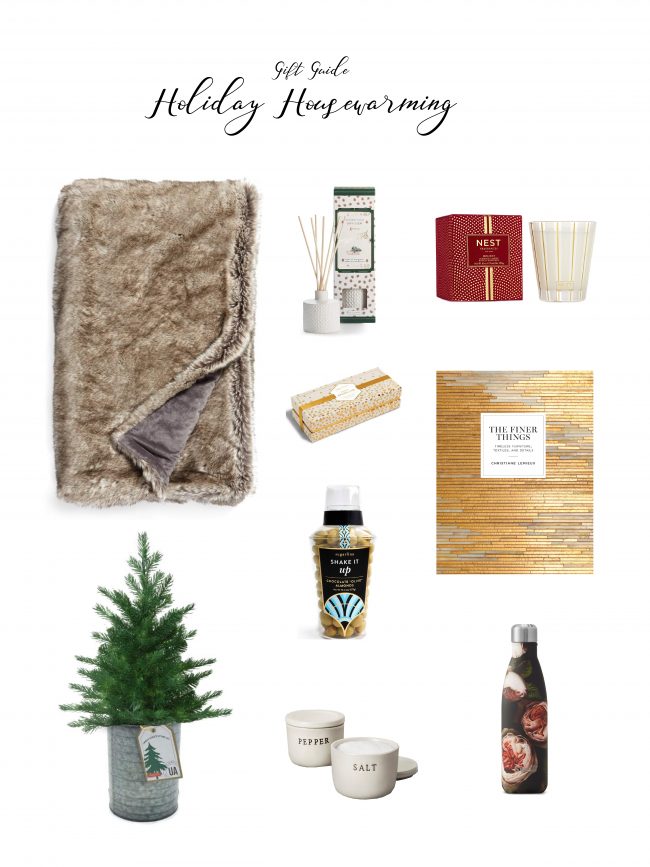 Hello hello everyone! I hope you are all having a wonderful first week of November! Since we are in full holiday swing, gifting is on the mind! With all the get-togethers and parties finding the perfect holiday housewarming gift can be tricky.  So to help you out I am bringing you a holiday housewarming Gifts for the host and hostess gift guide. 
Nest Holiday Candle | Illume Reed Diffuser | Sugarfina Holiday Box
Sugarfina Olives | S'well Water Bottle| Target Salt & Pepper
Nordstrom Faux Throw | Seedling Kit | Finer Things Coffee Table Book
You never want to show up empty-handed to a celebration. There is such a wide array of items that work with any budget! If you are looking for the perfect small item to bring, a candle is perfect. Here's the thing with candles, they are simple and basically foolproof. Just be sure to choose your brand wisely, and you cannot go wrong with this Nest holiday edition scent. It's one of my favorites! Put a twist on the classic candle with this Illume Reed Diffuser. Is there anything better than your house smelling like Christmas without all those pesky pine needles?
Another great small option is candy! Sugarfina is the best! I'm in trouble because Nordstrom started carrying their candies and gummies. They're doing a special holiday box that is already sold out at Nordstrom but available in smaller quantities here! Year round they carry these candied chocolate almonds that look like martini olives! They're unique, packaged adorably and tasty.  
Now if you want to bring holiday housewarming gift that is a bit more substantial, these salt and pepper jars from Target are a steal. Hearth and Home by Magnolia makes them and they're $5.99 each! Another stylish accessory is this S'well water bottle. All S'well bottles keeps your hot drinks hot and cold drinks cold for 12 hours. This is a must have for all winter excursions! Everyone could use a Swell bottle.
Step up your gift giving game with the coffee table book, Finer Things by Christiane Lemieux. It is all about how beauty in a home should endure, like the foundation it is built upon. Besides, it's absolutely stunning. Win everyone over with this Nordstrom cozy faux fur blanket, really you will win everyone over! I speak from firsthand experience, it is unbelievably soft. Finally, try bringing an unconventional gift with this adorable seedling kit.
You can't go too wrong with your gift just as long as it's personal and intentional!  Holiday housewarming gifts for the host and hostess are must starting with Thanksgiving around the corner.
Thanks friends! Happy holiday housewarming!