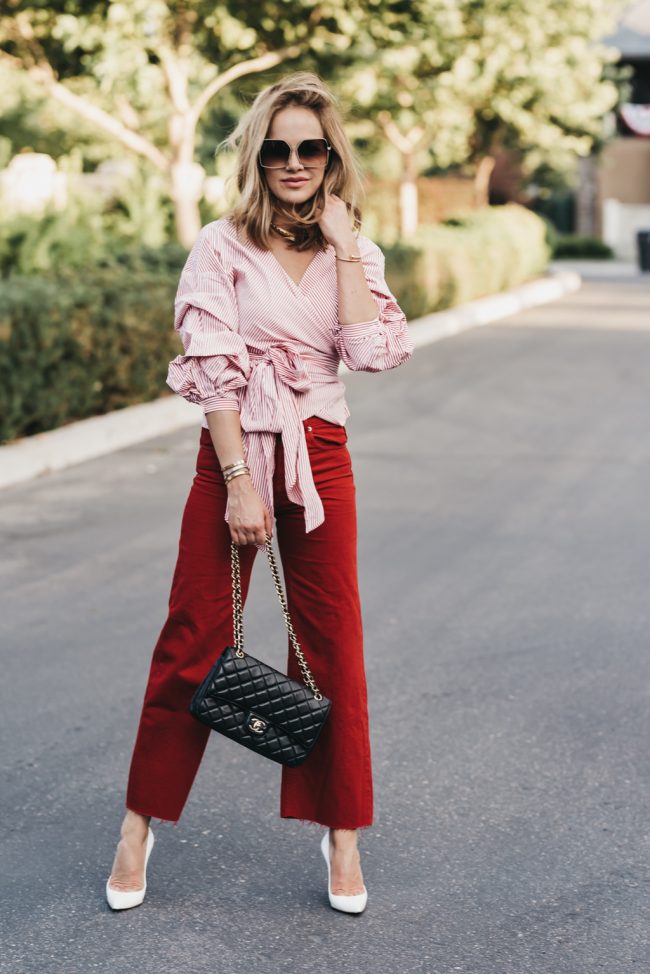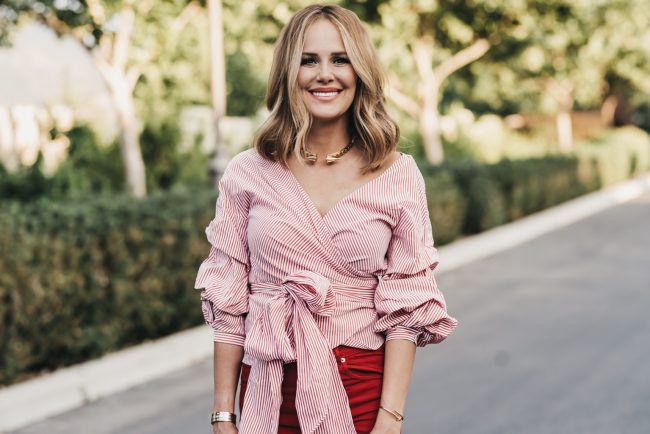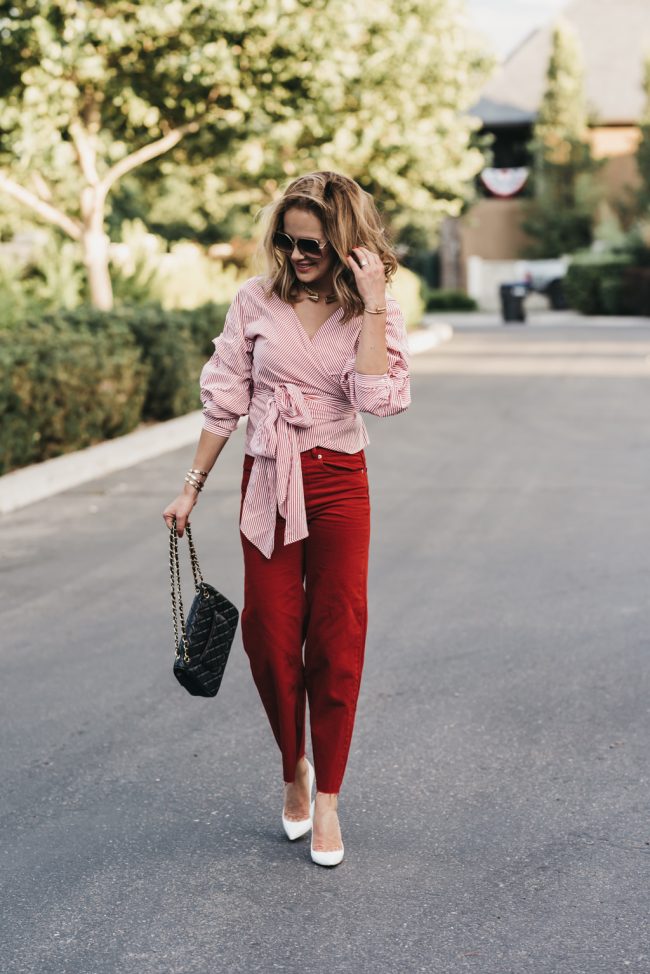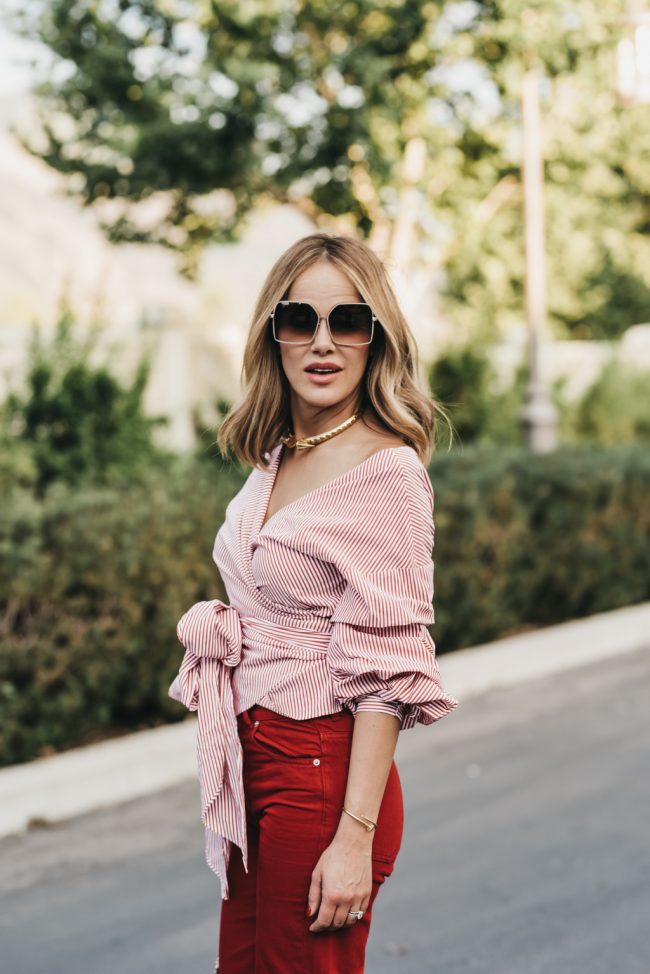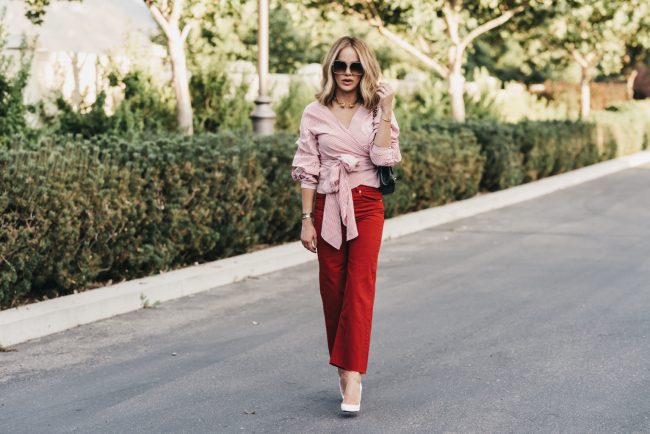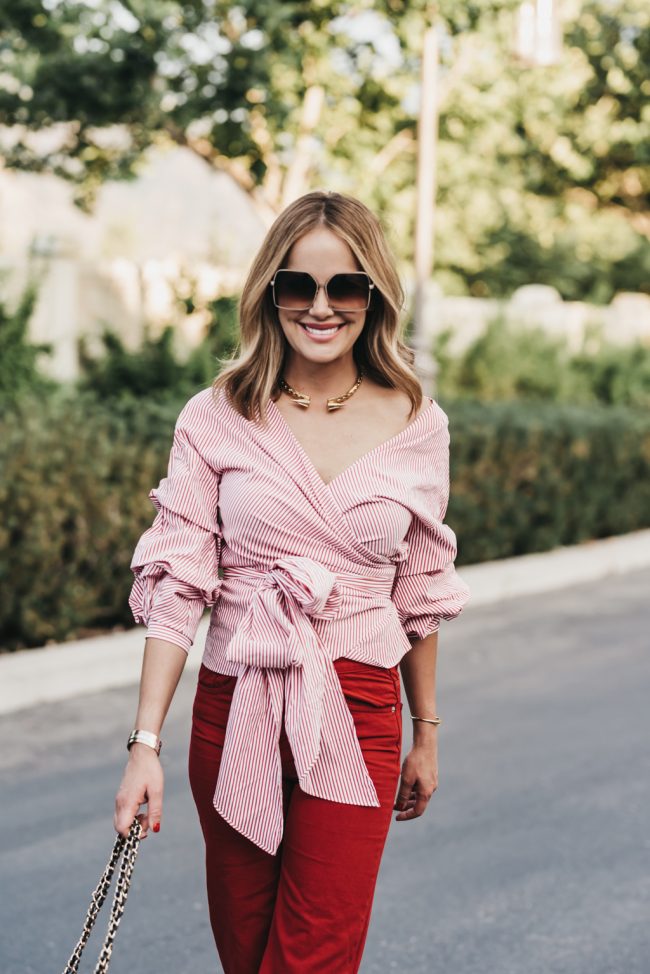 Good morning friends! I hope your week has started off great. My family and I were able to see my doggies who have been living at doggie daycare for the last two and a half months, so our cup is filled.  It's been so hard to have them live away for that long, but it will be over soon! We try to see them at least once a week and take them a puppucino (cup of cream for your pups) thanks to Starbucks.  They LOVE it!
Chicwish Enchanting Echo Wrap Top | Levis Wedgie Icon Jeans | Sarah Flint Emma Block Heels | Alexander McQueen Double Row Choker (same designer) | Wildfox Coronado Square Sunglasses | Charlotte Tilbury Pillow Talk Lipstick | IT Cosmetics Confidence in your Glow Blush
Today I am sharing a fall version of some of this year's hottest trends in my red striped wrap top and red crop jeans look. First we have the balloon sleeve wrap top.  These tops are so popular right now.  There are a lot of summery versions, but not a lot for fall.  It's such a fun playful top that can be worn backwards or off the shoulder too.  Have fun with this piece! Shop my photos below for even more fall versions of this wrap top.  Second, we have some cropped red denim.  Red is fall's hottest color and just so happens to be my favorite.  Ladies, It's important to mix up your pants! Don't get stuck in the skinny blue jean rut every single day.  Yes, I wear my skinnies most often too, but I always try to switch things around by playing with different cuts and colors of denim. I have linked several other red bottom options below as well.  The great thing about these trends, is that for the most part, they are really affordable.
My husband surprised me with the awesome Alexander McQueen choker in the photos above, but unfortunately it's sold out now.  I linked another beautiful McQueen necklace that is two tone, so it basically goes with any jewelry combo.  Lastly, I have on my Wildfox Coronado oversized sunglasses.  If my mom hadn't sat on them in the car, I'd be wearing them today (boo)! They are so glamorous and elevate your look in an instant.  See how I styled them here too.
I hope you enjoyed this red striped wrap top and red crop jeans look and be sure to shop the photos below or links above! xoxo