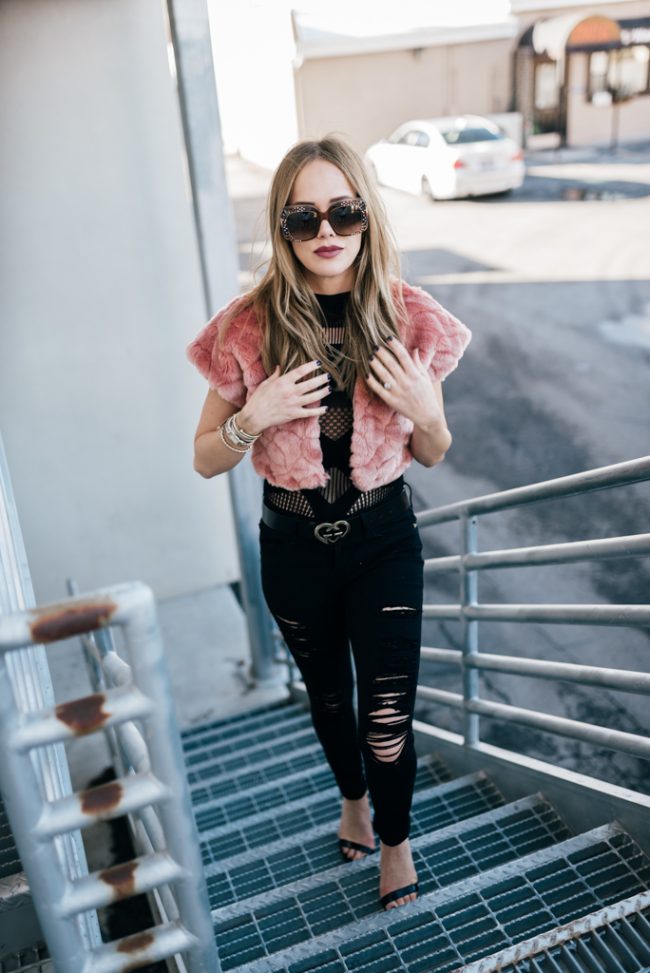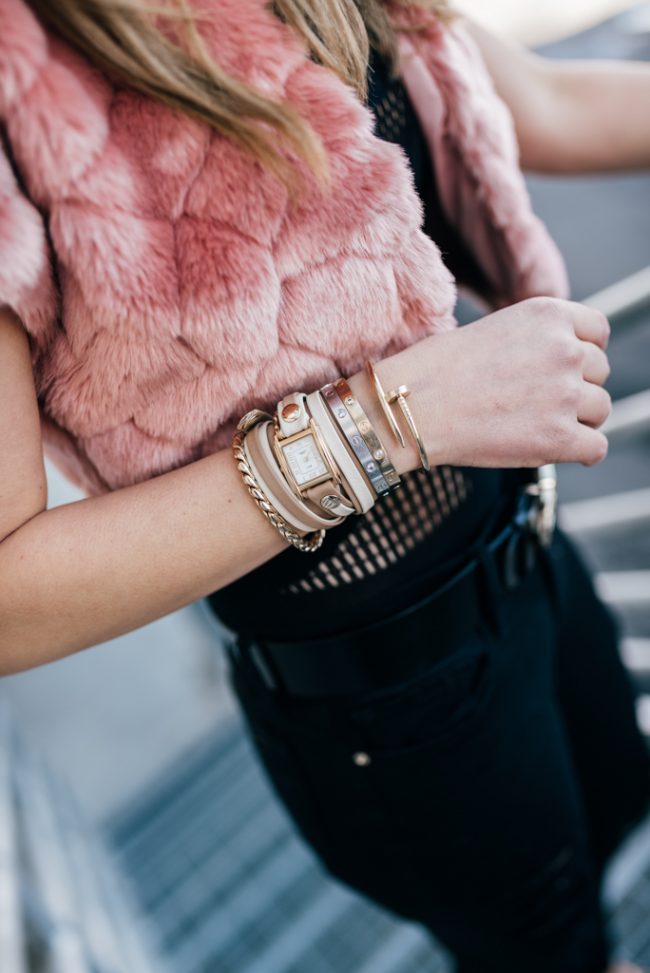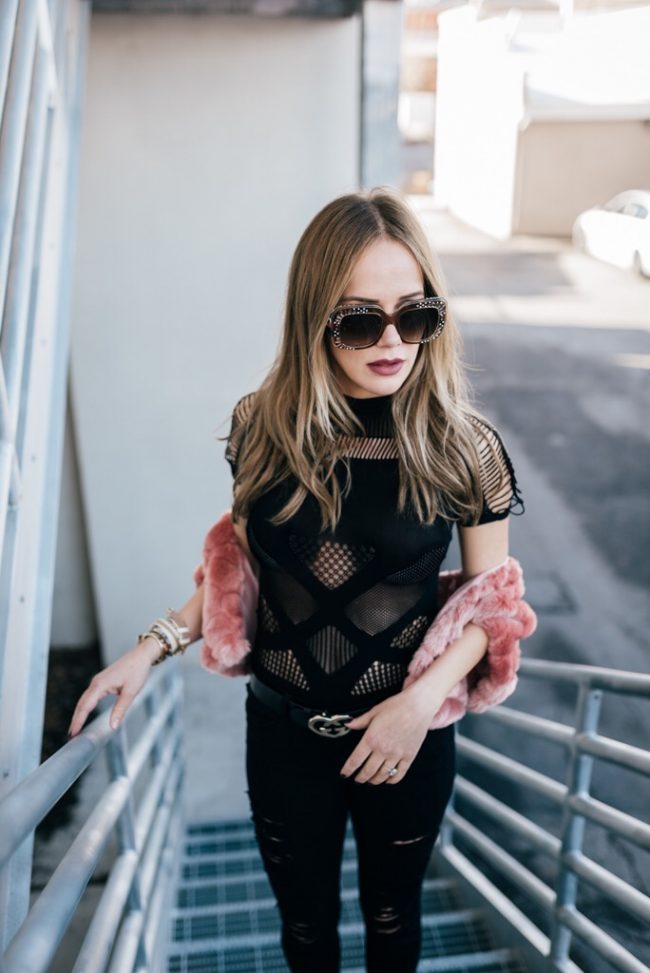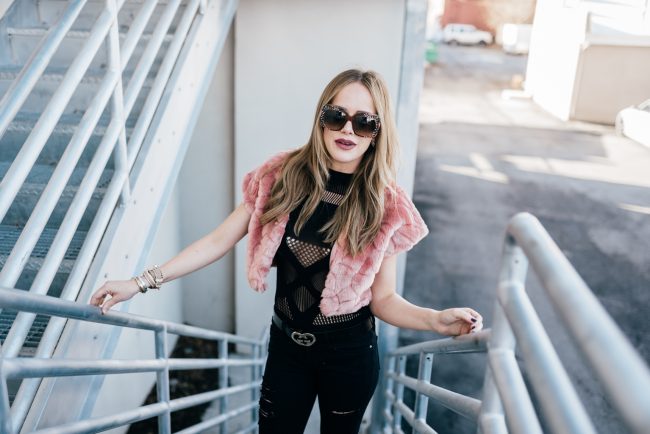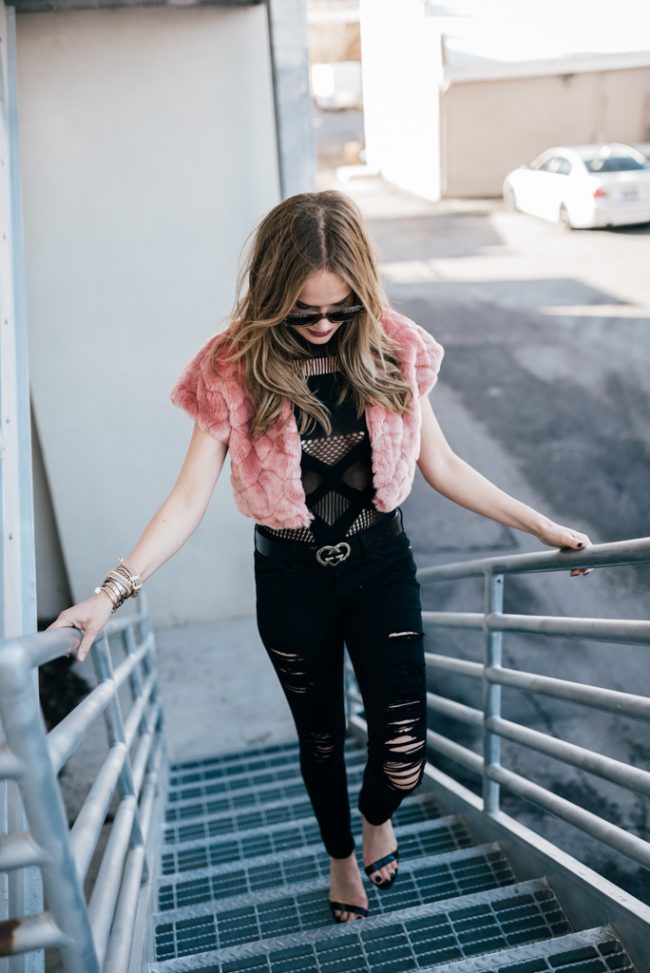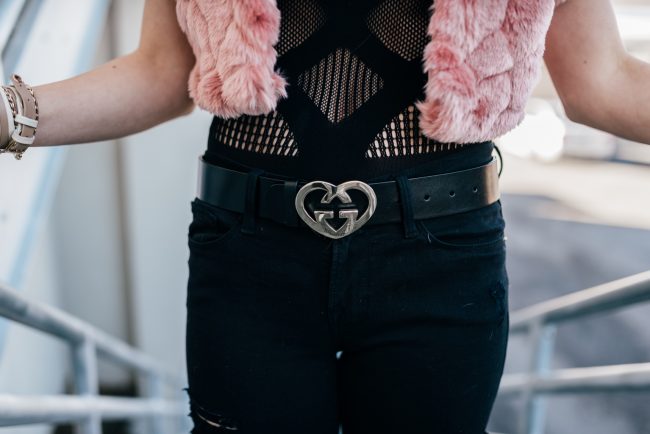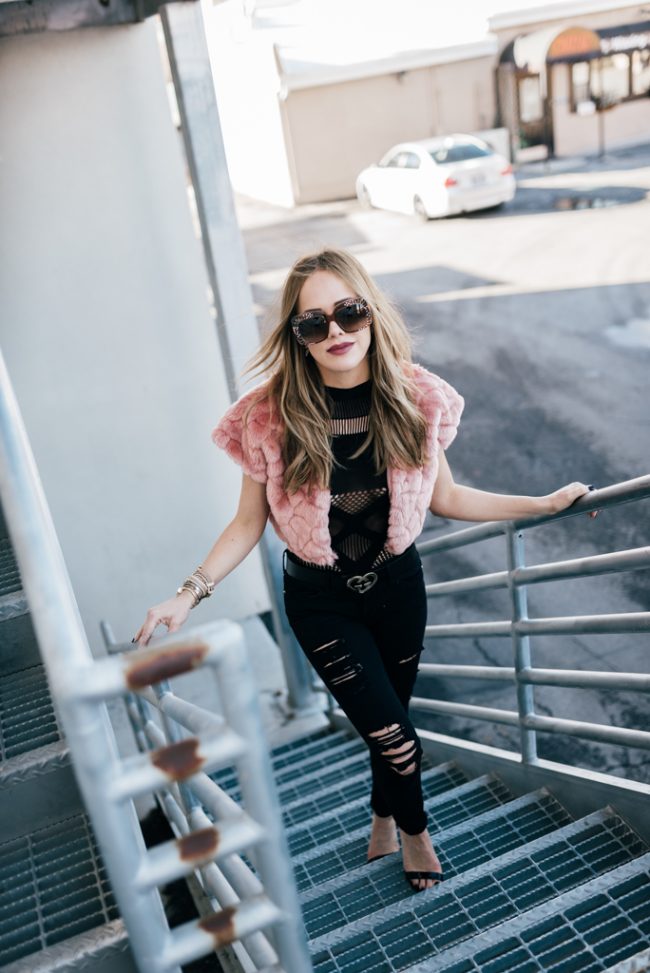 Frame Denim Le Rip Skinny Jeans | True and Co. Trove Geo Stretch Chemise Top | A'GACI Rita Faur Fur Shrug (major sale) | Gucci Sunglasses Via Smart Buy Glasses | Women's Gucci Belt | LA MER Sandstone Cable Chain Wrap Watch  | Rouge Dior Lipstick in Radiant Matte #771 
Happy 2017 my friends! I hope you had a fantastic holiday break! I most definitely observed mine :).  Although I hosted serval family events that required alot of my time, I still found time to…sleep in, lay around, eat until I was stuffed, play with the kids and watch a lot of TV.  It's the only time of year I allow myself to just chill.  Any other time of the year I have a lot of guilt when I do just chill…which can be unhealthy, I know.  So I am working on it in 2017!  In the spirit of me sporting this pink shrug, I'm shrugging off 2016 (wow that was lame)!
Today I am sharing a cutting edge look that still has winter vibes, with a hint of Spring.  A'CAGI is a website I am currently collaborating with and I think you will LOVE the pieces I picked to share with you. Today, this dusty pink faux fur shrug (I don't love pink, but this was a tone I could really get behind).  This shrug is animal friendly and an additional 30% off the sale price.  It's a really affordable statement piece your closet could use!
I have been obsessed with Smart Buy Glasses lately! The sell a huge variety of designer sunglasses at discounted prices.  These Gucci oversized square frame rhinestone sunglasses are from one of the most recent Gucci collections and they are discounted on Smart Buy Glasses.  I haven't seen them discounted anywhere else.   Make sure to check out Smart Buy Glasses selection of frames too.
How TA-DA is this fantastic little top by True and Co.?! It seductive while covering you in all the right places.  Whether it's worn as a lingerie top, with jeans or as a swimsuit cover up, it's sure to wow! Guess what *whispering* it's under fifty dollars too. TA-Da! Don't miss out on their beautiful bras, panties and lingerie as well.
It's a new year and time for a beautiful new start.  I am working on less judgement and more love….not to be mistaken for weakness.  After all, less judgement is the purest form of charity.  Have a great week! xoxo