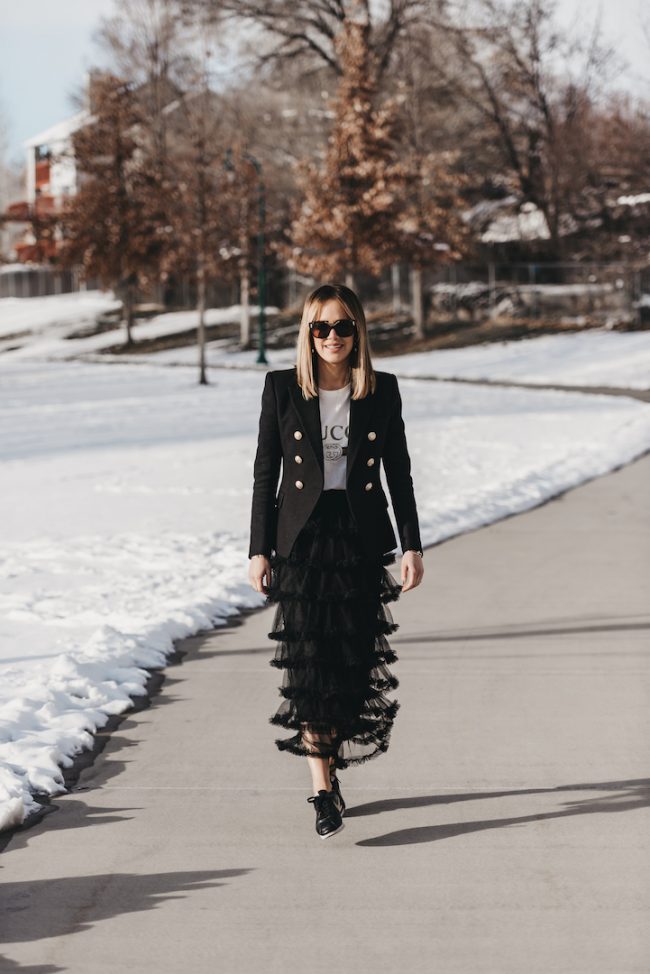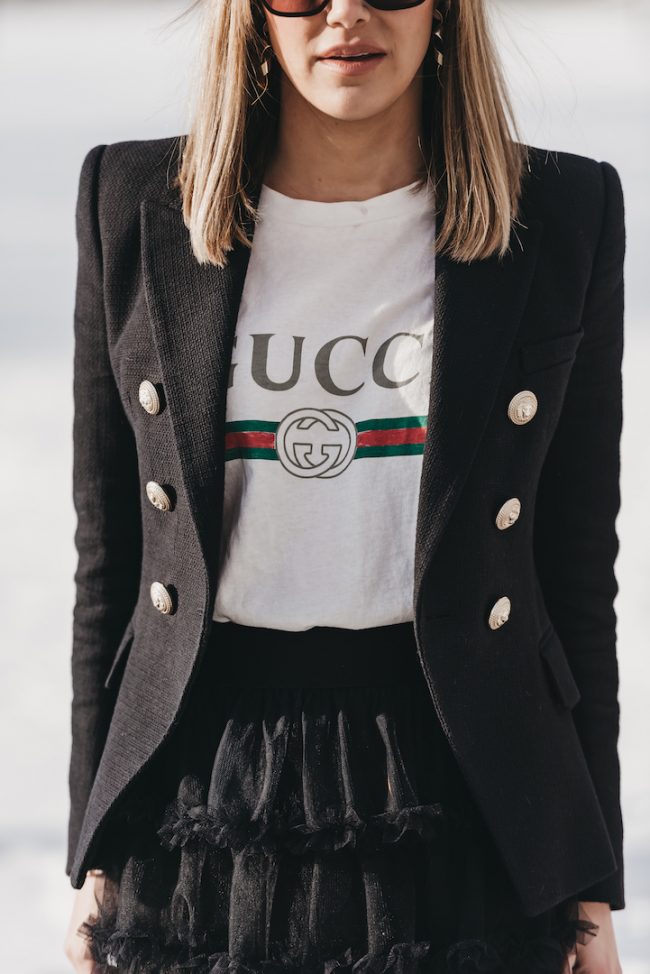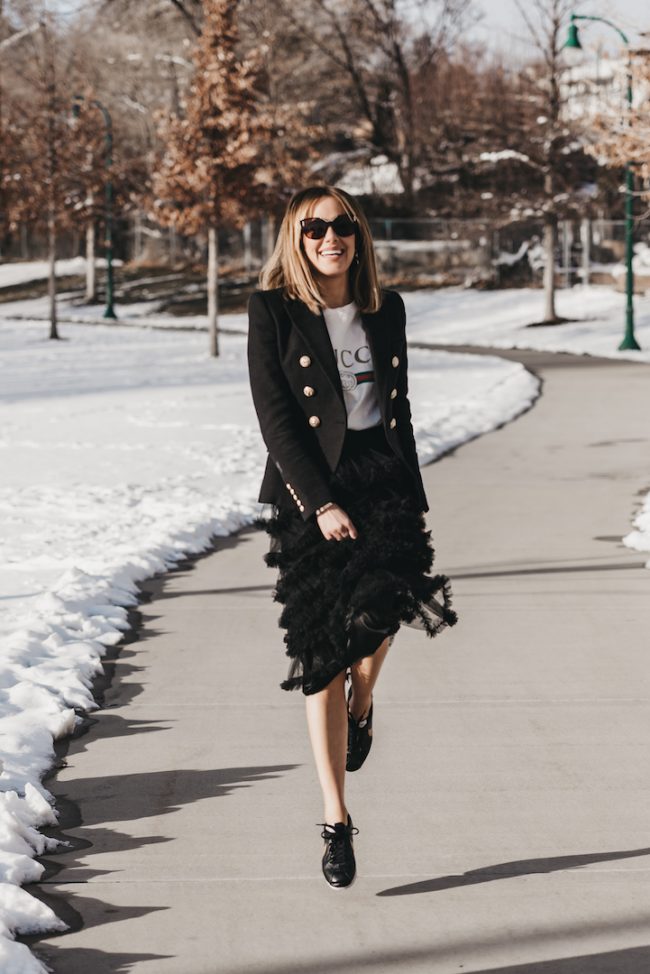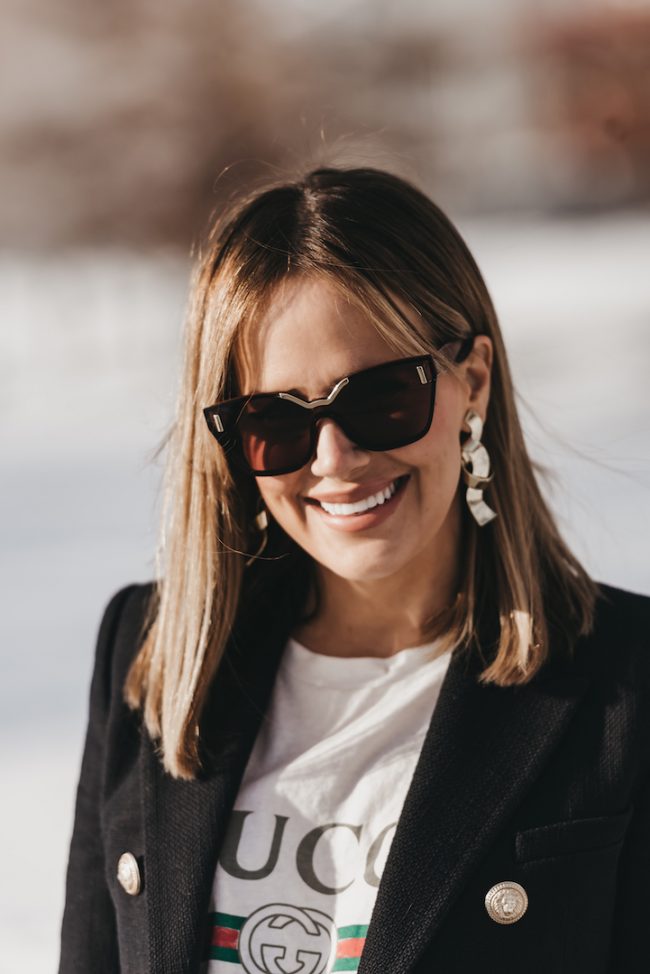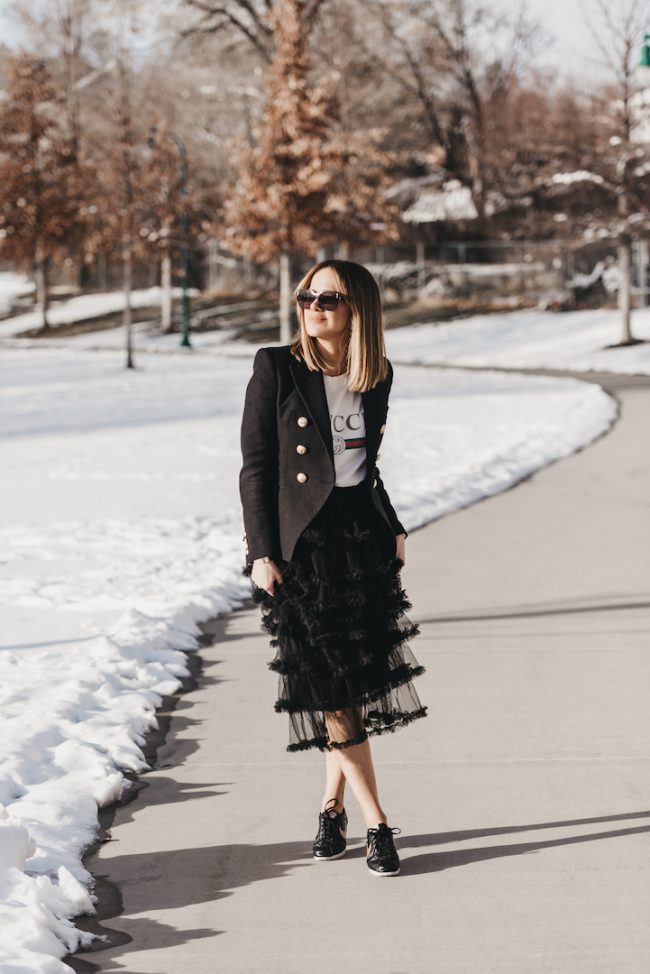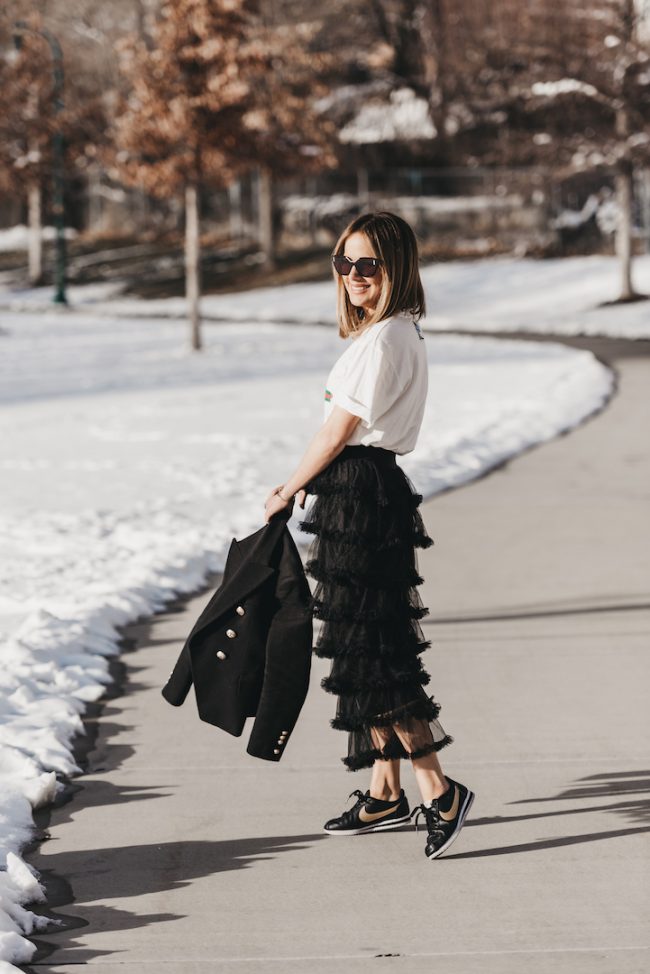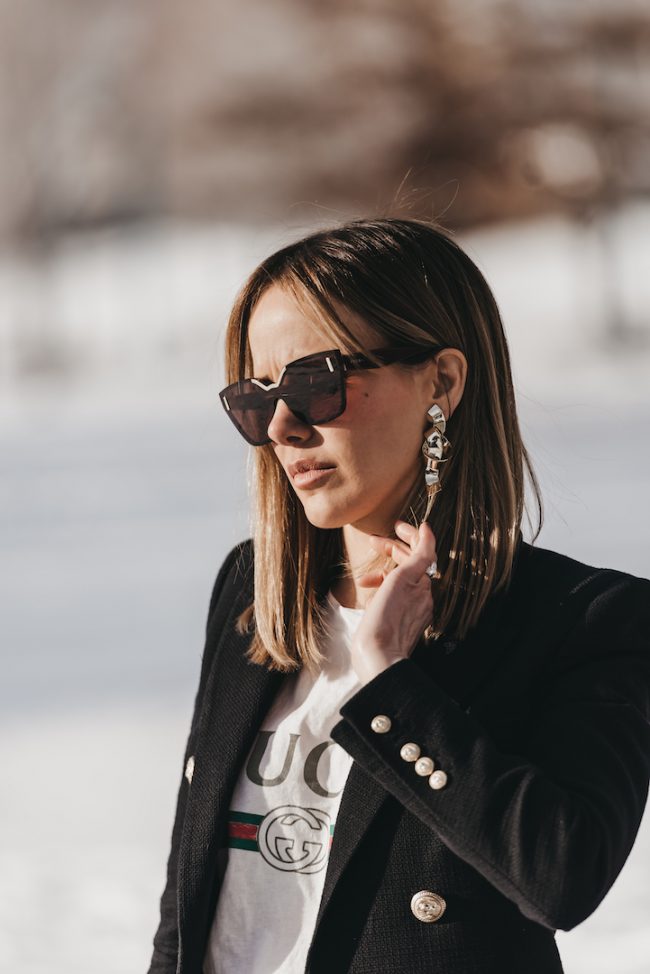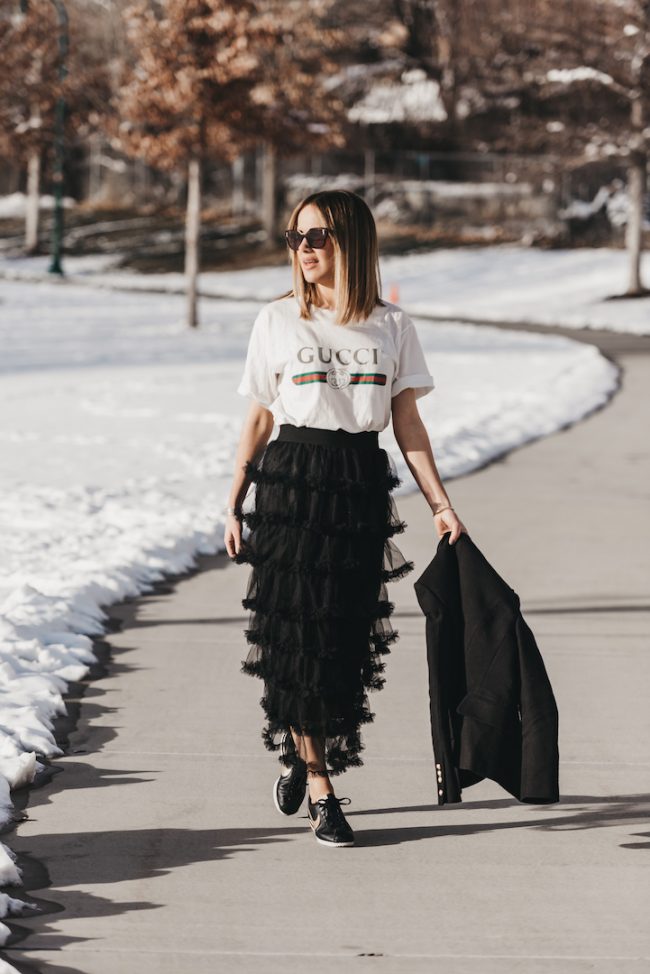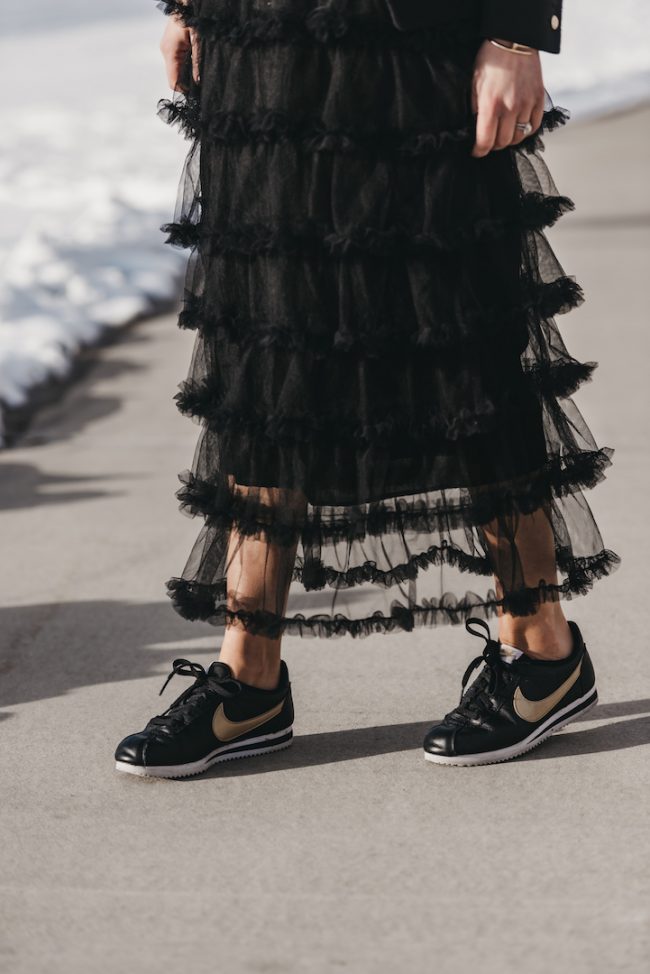 Good morning friends! I am back on the mainland and feeling renewed and refreshed. You know you had a good vacation when you're ready to get back to your regular routine.  To be honest, I think the best vacation is having the kind of life you don't need a vacation from. I think that's kind of the goal for everyone right?! If so, keep on keeping on! Some occasional sand and sunshine can't hurt either! Today I am sharing the fool proof blazer worth splurging on.
Gucci Vintage Logo T-shirt | Black Balmain Double Breasted Blazer | Leila Lace Tiered Skirt (similar) | Bauble Bar Nariah Knot Earrings | Red Prada Hide Shield Sunglasses | Vintage Nike Cortez Black and Gold  Sneakers 
Gucci T-shirt and Balmain Blazer
 I am exciting to be sharing two major wardrobe staples…the black Balmain blazer (if you're gonna get one get this one) and a vintage Gucci logo t-shirt (likewise). Like most investment pieces, you're gonna wear these items over and over.  I would so much rather have one nice piece that I love than 5-10 other tee shirts or blazers that I kind of like. If you think about it in romantic terms, you'd never rotate five average fellas over one great one, right?? So why do it with your clothing?! Ha! like I said, you'll love having these pieces on rotation.
Budget Friendly Skirt 
To keep this look somewhat down to earth, I styled the Gucci Vintage Logo t-shirt and black Balmain double breasted blazer with a Storets tiered ruffle skirt. Although there is nothing plain about this pieces, it's a lot easier on your wallet than the others. Unfortunately my exact skirt has sold out, but I linked a very similar dark navy style (comes in ivory too) and it's on sale. To polish off the entire look I added these affordable Bauble Bar Nariah knot earrings. See that…my expensive designer pieces instantly elevate my affordable items. It's the oldest trick in the style book!
The Sunnies
On my last trip to Las Vegas I picked up these awesome red Prada hide shield sunglasses.  I love the color, the gold accents and the modern shape.  Visor shades are making a big comeback and I love this pair because it's not too over the top.
See how I styled another Storets and Gucci look HERE.  Make sure to check out the fool proof blazer worth splurging on sooner than later! xoxo