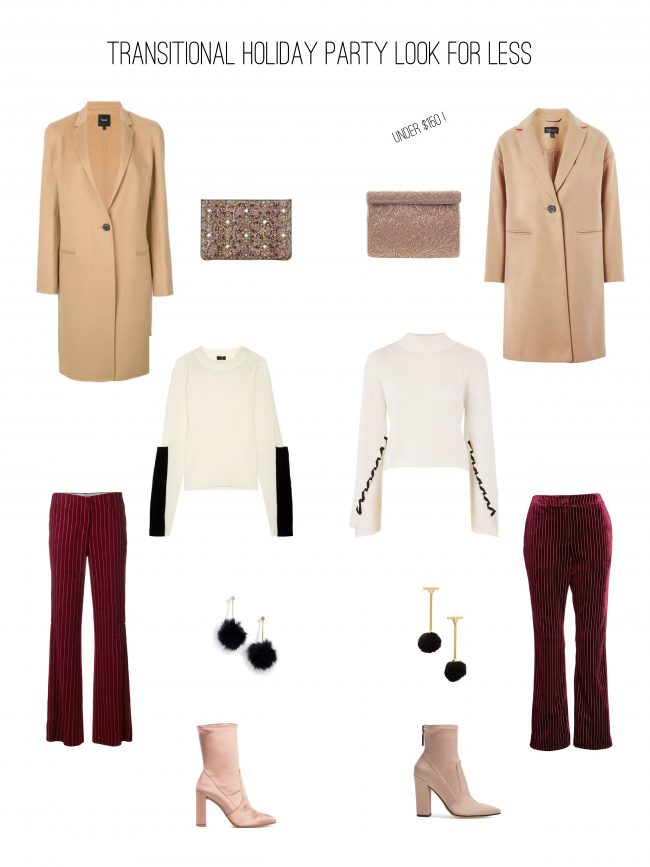 Hi! This Tuesday is all about transitions, and the perfect holiday party look for less! This styling works for every one of the endless holiday gatherings! Guys, this week on thefashionfuse.com it's ALL about holiday party attire.  From casual to formal/affordable to high end, don't miss a  single post!
The pieces on the left are splurge-worthy, and the items on the right are  priced "right"! So, in this holiday party post every transitional piece is under $150.
Splurge Worthy
Camel Coat | Red Striped Trousers | Creme Sweater
Pom Pom Earrings | Pink Clutch | Satin Boots
Look for Less
Camel Coat | Red Cropped Trousers | Creme Sweater
Pom Pom Earrings | Pink Clutch | Satin Boots
Pants
For starters,  a good red trouser is an essential, so adding stripes is a no brainer. The cropped pants on the right are a killer transitional piece because they work for day or night styling. Likewise, if you want a flare leg, then rock the designer pair from Italy on the left.
Sweaters
Now, both of these options put a twist on the classic creme sweater. I love the Topshop lace up on the right or the bold contrast on the Joseph jumper.  Further, style the sweater by tucking into the red trouser and let the sleeves do the talking.
Coats
Also, as you can tell by my recent post about coats, you can't miss out on a camel coat. It is the transitional piece of the century! You can wear it September-February! In addition to this, it just looks good with everything.  Topshop does a great job with it or spend a pretty penny on this Theory number.
Boots
Now, the pink satin boots are a must with the red trousers. Pink and red together, when combined right, is show stopping! Be sure to stick with the Stuart Weitzman or Dolce Vita version of this and you won't go wrong.
Accessories
In addition to all this, Pom Pom earrings are everywhere and I'm not mad about it. Snag these basics from Madewell or from Kate Spade with a little sparkle. Now, bring out those nude pinks with a detailed clutch. Christian Louboutin puts a rad spin on things with the geometric pattern, or try this simple Nordstrom Nina beauty.
Thanks friends for reading! Stay tuned for more exciting holiday styling this week. You won't want to miss it!