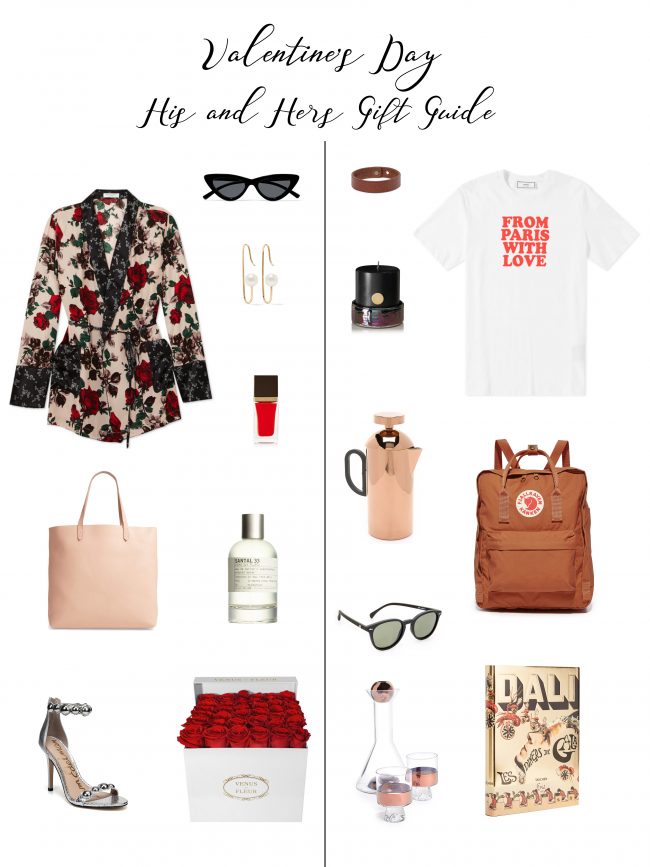 Here is my ultimate his/her Valentine's Day gift guide for any budget!
Ladies first! Spoil your girl with this Equipment floral print silk robe. It's light, chic, and feminine with a tie for shape. If you're looking to snag a staple this Madewell bag is perfect. It's a soft tote that comes in other great colors besides this soft pink. It's under $200 which is an awesome price for such an amazing staple. Plus, this Sam Edelman ankle strap sandal is fabulous and another shoe essential. These are under $150 at Nordstrom now! Throw in this Tom Ford lip color with any of your gifts, this shade is brilliant.
Another budget-friendly, yet killer gift are these Le Specs cat eye glasses. So stylish and inexpensive. You guys know I love Le Labo and you really can't go wrong with any of their scents. Finally, splurge and go for these Natasha Schweitzer 9 karat pearl earrings because they are a guaranteed heart stopper. Or splurge on these classic roses packaged perfectly from Saks. Either way, you can't go wrong with these gifts for any budget!
Now for the guys! If you have read my posts before you know I have a soft spot for Tom Dixon and so his gifts are definitely on this Valentine's list. I love this rad masculine decanter set, his copper French press, and his classic candle! I mean I don't even want to use these items they're so cool looking. Try this awesome shirt from Ami that is under $100! Also, this classic Fjalraven rust colored backpack. If you want a coffee table book this Salvador Dali book is the perfect office accessory. Finally these two, this Saint Laurent leather band and these Le Specs glasses, two great items at high and low price points for any budget!
Don't forget to order your gifts in time for V-day in seven days!
Gifts for Her:
Equipment Silk Robe | Madewell Tote | Pearl Earrings | Tom Ford Lipstick | Le Labo Perfume |
Sam Edelman Heels | Saks Fifth Avenue Roses | Le Specs Cat Eye
Gifts for Him
Ami Paris Shirt | YSL Bracelet | Le Specs Sunglasses | Tom Dixon French Press |
Tom Dixon Oil Candle | Fjalraven Backpack | Tom Dixon Decanter | Salvador Dali Book