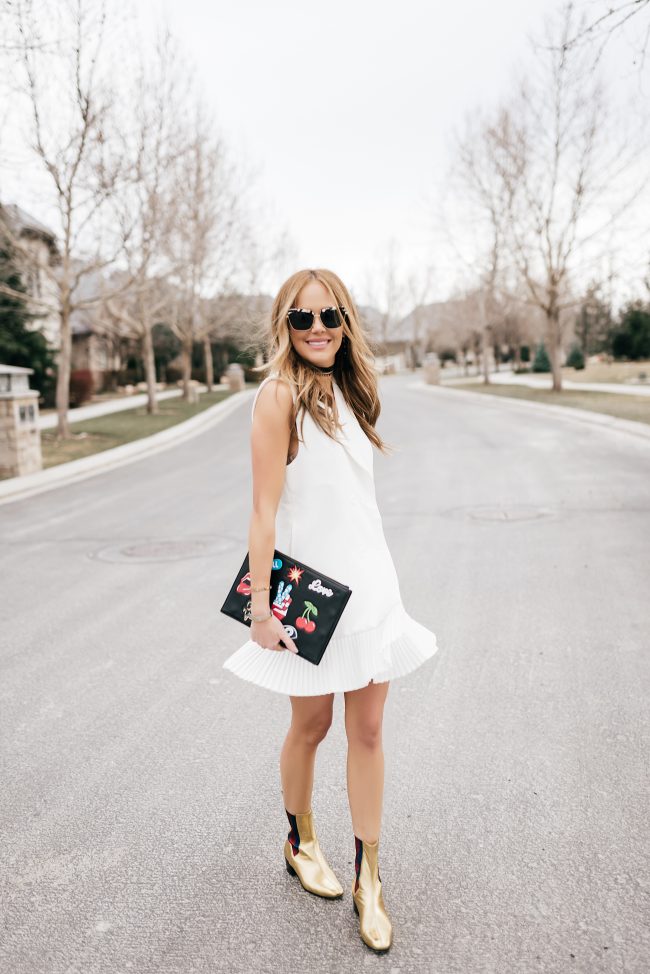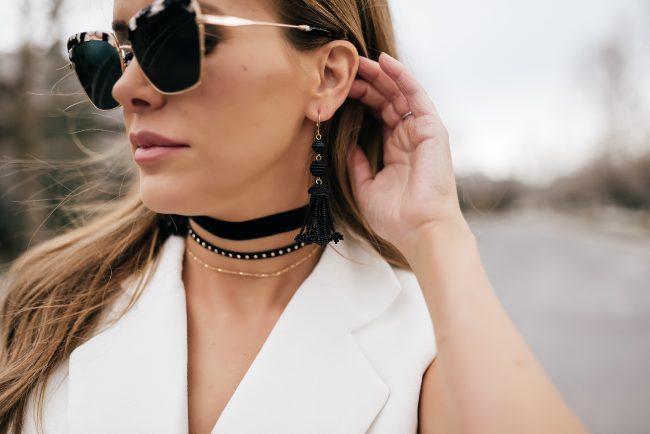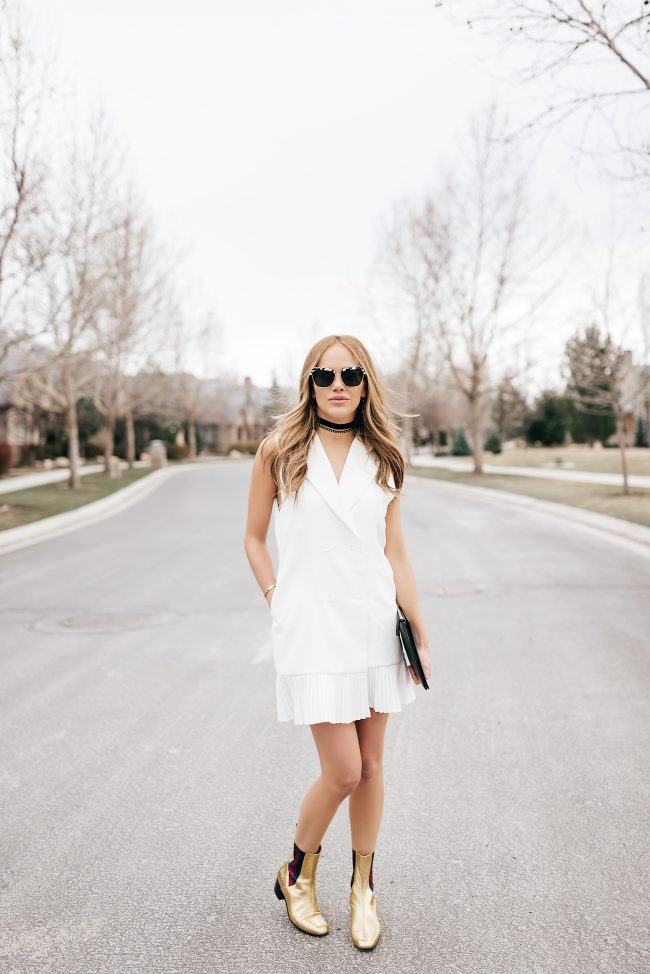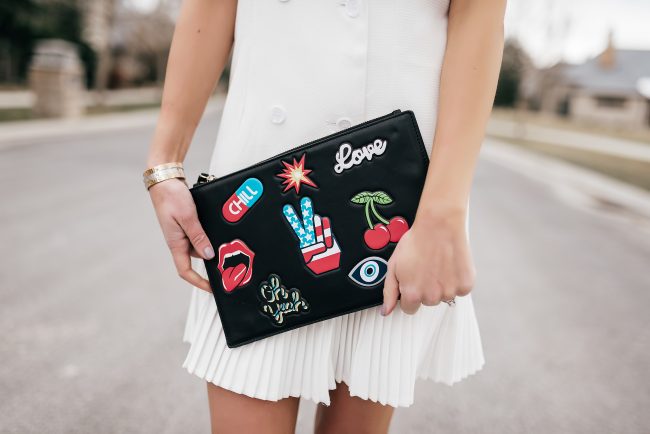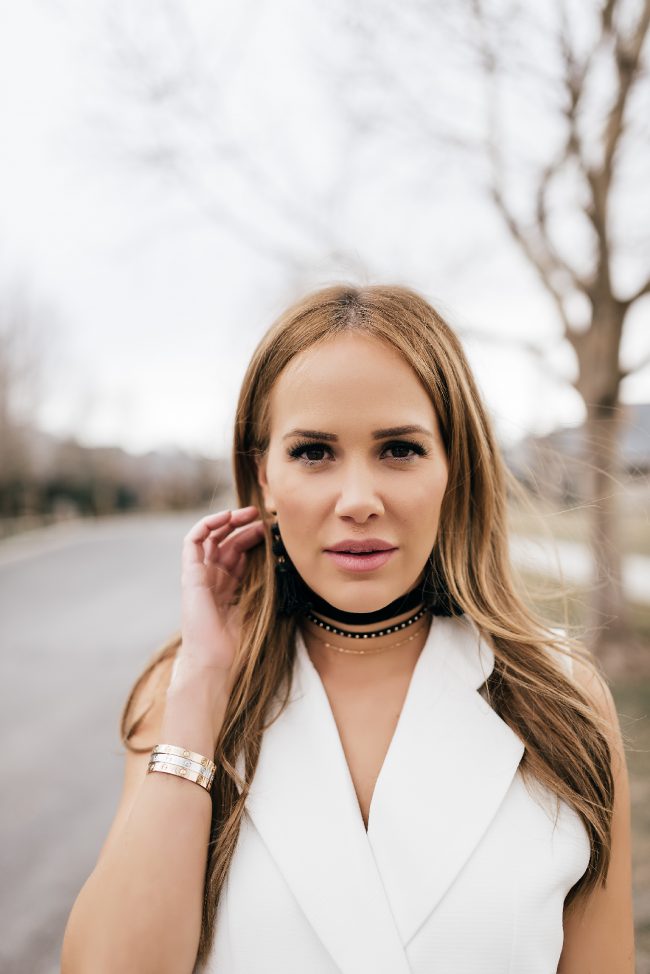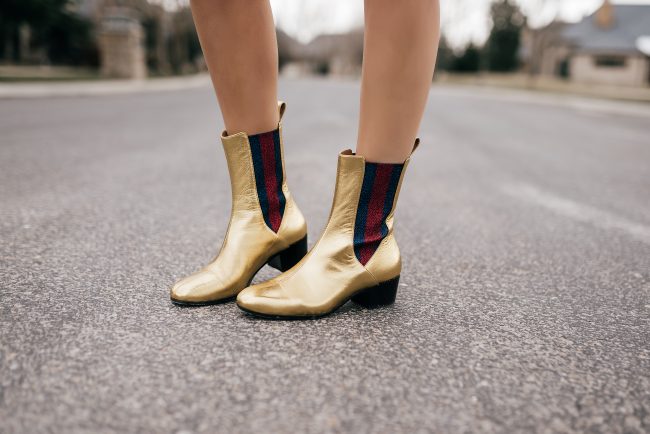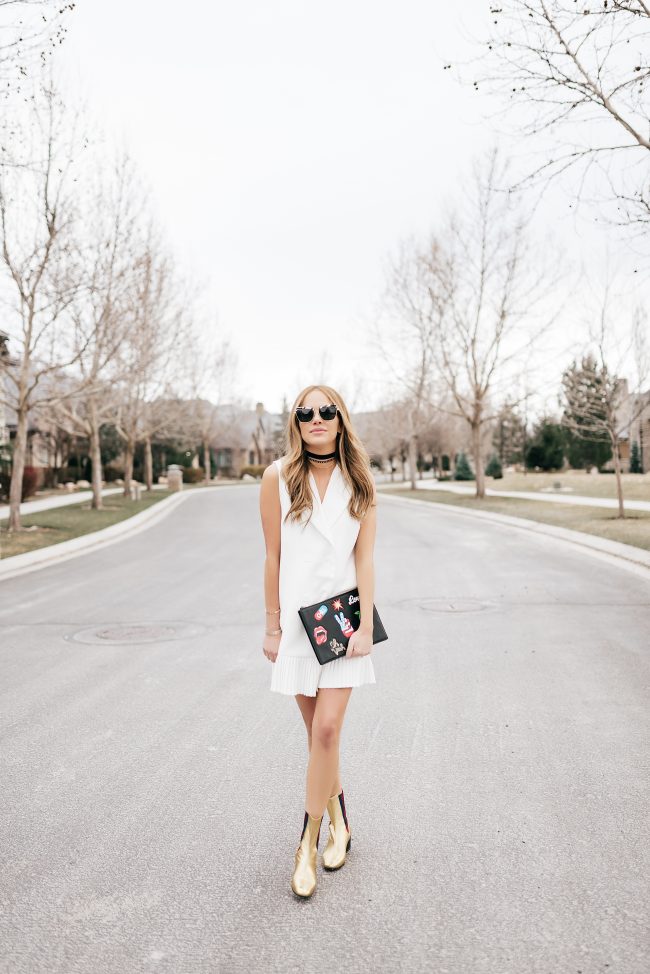 T & j Designs White Tuxedo Vest Dress | Gucci Gold Metallic Leather Chelsea Boots | Sonix Highland Square Sunglasses  | T & J Designs Black Tassel Duster Earrings  | T & J Designs Velvet Three Layer Choker | Riley Versa Base Bag and Girl Scout Cover
The Makeup
City of Color Poolside Eyeshadow Palette  | City Of Color Contour and Define Palette  | Charlotte Tilbury Kissing Lipstick in Penelope Pink | Charlotte Tibury Lipliner in Pillow Talk  
Happy Monday friends! I know I might sound like a broken record, but I actually like Mondays a lot.  It's chance to start fresh and get organized.  Because I love what I do, Monday never feel like a chore.
Today I am sharing a white tuxedo mini dress for spring! I love this fresh white Tuxedo/Vest dress from T&J Designs because it's such a girlie take on menswear, it's fresh and it's very affordable.  Jen and Tiffany are two sisters based out of the Chicago area who believe the T&J woman is stylish, smart, self confident and social. Their shop doesn't break the bank and will put a smile on your face! My three layer choker and black tassel earrings are also from T&J.
Riley Versa is a handbag company that believes you really can have it all with just one bag.  They have created two different types of clutches with many interchangeable covers.  In the look above I styled the Versa Bag with the Girl Scout cover.  I own the Lola cover as well and I am crazy about both of them.  These bag are very well crafted and give you endless options.  I will be sharing my Versa Bag with the Lola cover within the next few weeks, so look out for it!
My thoughtful girlfriends got me these incredible Gucci gold metallic Chelsea boots and I am smitten with them!  They are so much more versatile than you think! They are amazing in the fall and winer, but also work so well in the spring and summer.  Add them to any dress, shorts, shirt or cropped denim to instantly elevate your look! If gold isn't your thing, I am also a big fan of these Red Buckle Gucci Boots. 
Thanks for letting my share my white tuxedo mini dress for spring!
All my makeup is listed in the links above. Please have a great day.  xo