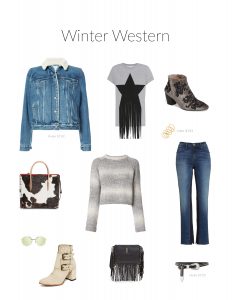 Hi y'all! Hope everyone is having a great Wednesday! Today I am talking about how to work a winter western look.
During the colder months I definitely can get into a rut with my coats and boots. Which is why trying a winter western themed look can really mix things up. Trying this look will hit reset on your vibe.
A western look is comprised of these key elements, denim, fringe, and animal prints.
Start your look with a great pair of denim. Either a light wash or a dark, I like this pair from Frame, they are ankle length and straight leg. The two tones maintain a flattering shape, but are still more interesting than classic skinnies.
From the waist up you'll want to really get creative. I like this Stella McCartney fringe tee, the design is spirited but not too much. Fringe should never be obnoxious, it should just smoothly sway. If the temperatures call for a heavier top, this Giada Benincasa sweater will do the trick.
With a winter western look, you have a lot of options for outerwear.  For example, you can go with a suede fringe, a bomber, or denim with shearling. The shearling denim I have here is from Levi's, I really love this jacket because it is just so classic. Trust me, you will find so many other excuses to wear this coat. Also, it is under $150! You can't beat that!
Don't lose steam with footwear, either with these Free People velvet booties or these white FREEBIRD by Steven snake embossed boots. This is a family company has been handmaking incredible shoes for the past 100 years!
Accessories are the last frontier. For sunnies, I recommend a nice pair of aviators. These green ones from Carin Glasses are super rad. Now, this belt is everywhere and just an essential for a fall wardrobe. Mix the silver belt with these delicate gold rings. A power clash for the win!
For carrying your goods, I am obsessed with this Christian Louboutin tote. If you need a smaller, clutch option, try out this YSL fringe number. Both will complete your winter western look!
Thanks pals! I hope you liked my thoughts on a winter western look!