Those of you who are in the business of self promotion (blogging, modeling, hosting and etc) or who just want to take better social media photos, I hope you find this post helpful. To be honest, I still get shy sometimes posting photos of myself. I have worked as an actress and model (to help fund the lack of acting at times) for over 12 years. When I am hired to do a project for someone else, I have no problem being in front of the camera (trust me, I have done some embarrassing stuff). When the project is my own creative idea or material I become a lot more venerable and therefore scared. Because of my fear or shyness sometimes, I put quite a bit of pressure on myself to create something "perfect." The more I get used to blogging and being the editor of my own site, the more I realize that the work absolutely had to be quality, but just as importantly, I have to RELAX and have fun with it.   Here are some tips I use to make the process go a lot smoother…  
1. Have a great filter program
  I don't like to doctor a picture too much, but it's important that the photo looks finished. My favorite filter app is Afterlight and my favorite filters are….   Glacier,to give the photo a slight grainy/exposed vibe
Whim, when the photo could use a touch of warmth
Relic, if the photos needs to be cooled down a bit (more often than not)
Breeze, I don't know why but I just like it   I don't use any of these filters at full capacity. If anything I am conservative on the amount of filter I use. After I filter with one or two of these filters (overusing the word filter now), I then mess around a little bit with exposure, sharpening, saturation and brightness, depending on what the picture needs. It's important to for me to stay consistent with the types of filters I use so that my landing page has continuity.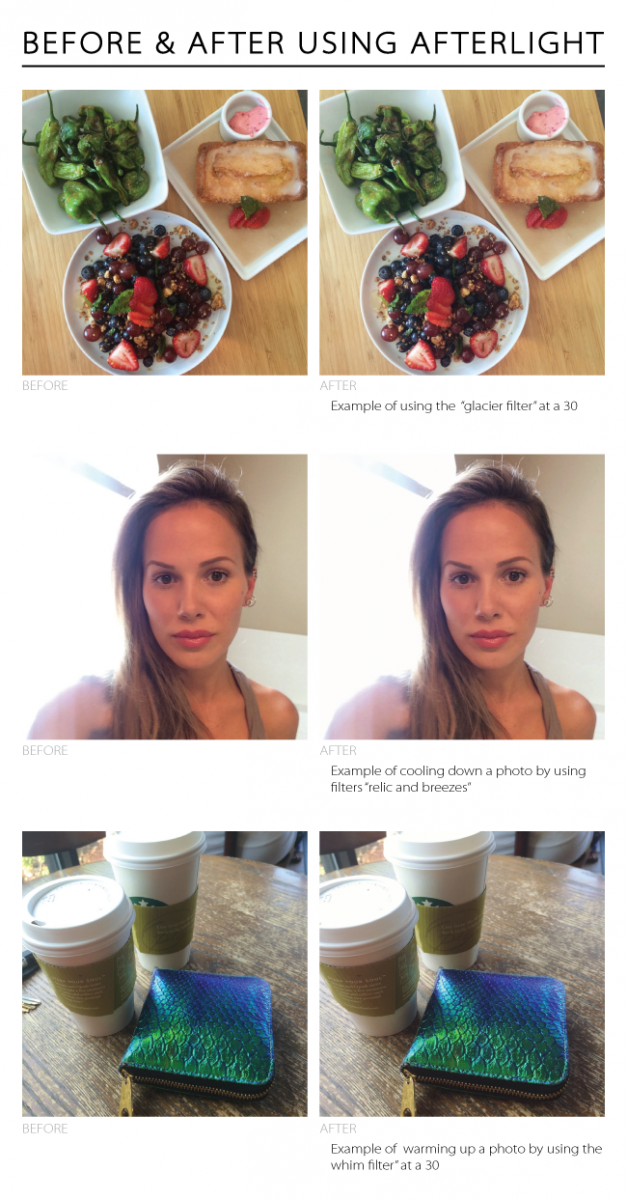 2. I always shoot from the square setting on my IPhone.
  It may sound simple, but it's very important. Because I am a fashion blogger, it's crucial that I shoot my outfit from head to toe. If I have it on the square setting, I can rest assured that all of my outfit details get in photo, which means I don't have to crop anything.  
3.  Always assume you audience is smarter than you.
  What does this have to do with picture taking you might ask?? Well, when a photo feels forced or insincere, 90% of your readers can feel it. Trust your gut on this stuff. If it feels fake, it probably is and your audience won't respond well to that. I am still figuring this out everyday. It takes practice to trust your own judgement. It gets tricky with fashion because sometimes you have to take a photo simply to promote an piece or an accessory and that can feel forced. My own rule of thumb is "would I use or wear this item in real life?" If the answer is "yes", the sharing it via on Social media will be sincere too.  
4.  Avoid sunny or harsh lighting on your face or body that cause shadows or squinting.
  Lighting is the difference between looking like a 10 or a 2. Sounds superficial, but it's the cold hard truth. If you can wait, try to take your pictures around 6pm or later. If you need to, shoot them later and use them the next day.  My favorite/ most popular pictures were taken in the evening.   
5. Try new angles, POVs and/or capturing REAL moments.
   I am very into symmetry, so I am still working on this one.  However, sometimes when I flip my photo (in the afterlight app) I am really pleased with the results.  There have also been many times I try shooting something and can't get the results I want.  When I turn the camera or try a different angle, magic can happen.  Just play around and take liberties…if you don't like them, don't post them.     Examples of blogs that use interesting POVS, angles or movement in front of the camera are… Mary of  
Happily Grey
 does a beautiful job with natural camera movement and capturing real moments…
Sarah Sherman Samuel
is really good at POVs, angles and perspective and Jennifer Grace of
The Native Fox
is usually really creative with her angles (especially on IG)   Look, my blog is still new (9 months) and I am still learning a lot, so in no way do I claim to be a expert.  However, I am sharing my iPhone picture taking process, because I get a lot of readers that write me inquiring about starting a blog asking what my advice to them would be.  I always remind them that content is key and pictures have almost everything to do with how the content is displayed.  Obviously its a learning curve, so you will make mistakes (I sure do), but do your very best not to cut corners.     If this post helps even one person, then I am pleased! Thank you for stopping by xo