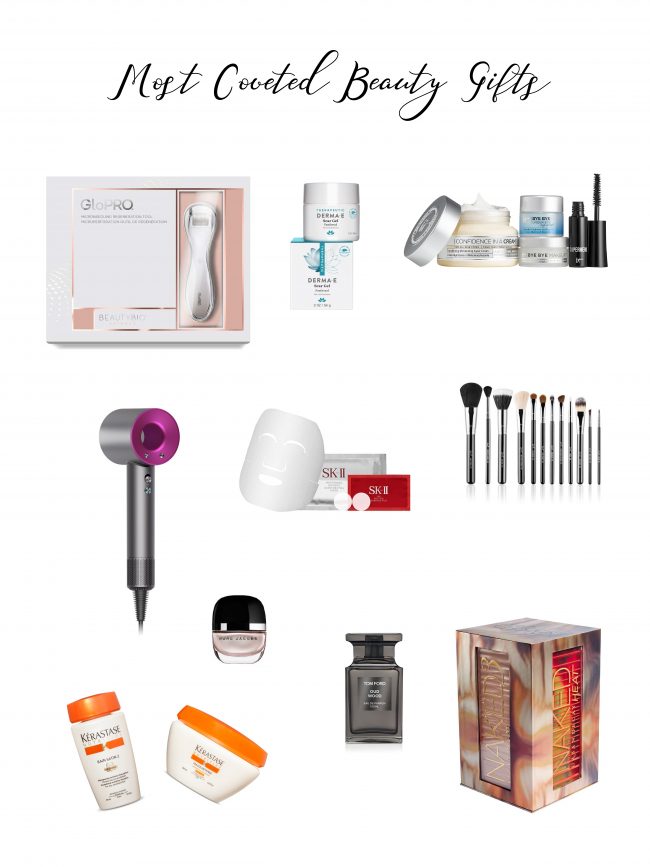 Hey hey, it's Tuesday!
Alright, as you begin your Christmas shopping don't miss out on the Most Coveted Beauty Gifts of the year!
Bio Science Glo Pro | Dyson Blow Dryer  | Naked Vault
Kerastase Shampoo  | Kerastase Hair Mask |IT Cosmetics Bestseller Box
Sigma Brushes  | Marc Jacobs Nail Polish  | Derma E Face Oil
First up are the big-ticket items. Guys, I am obsessed with my Beauty Bio Science Glo Pro. In fact, this micro-exfoliating technology kickstarts your body's natural healing process, making your skin firmer, and fresher. I also love all of the serums that go with it. It just might be my favorite beauty product from 2017! This product is on backorder at Nordstroms so hurry and grab it from Bergdorf Goodman!
Unless you have been living under a rock, you've seen the Dyson Blow Dryer around all the beauty blogs. Well, I can finally attest, this blow dryer is the real deal. It's  75% quieter, and channels heat like your drug store dryer. It also doesn't get too hot, thanks to built-in sensor beads. Besides it'a just 10x prettier than any blow dryer out there.  Snag this coveted beauty gift, the Dyson Blow Dryer at Sephora.
Everyone, including me, raves about Tom Ford cologne and for good reason. It's the perfect beauty gift for any lucky guy or gal in your life! My husband wears Oud wood religiously and gets an insane amount of compliments.  It smells like a hip boutique hotel.  I know that's random, but it's just got that "it" factor.
Next, up the limited edition Naked Vault which includes their four most coveted palettes! These palates have all the basic and not so basic eyeshadows you need to start your collection.  If you';re gonna buy one palette this year, let it be this one. Apply these shadows with these Sigma brushes, they're the softest by a mile and clean so easily. My final splurge-worthy beauty gift is the SK-II Mask available at Saks, a perfect post-holiday brightening, and revival kit.
Now some other great beauty gifts that won't break the bank. IT Cosmetics Bestsellers kit, this is a special roundup of their best stuff and makes a fantastic girlfriend gift. But, if your girlfriend is a health nut, get her some Derma-E, like this face oil that gives you a natural shimmer. Next, Kerastase Shampoo/Conditioner and Mask. Their orange line is perfect for moisturizing and strengthening. Lastly, Marc Jacobs nail polish makes for a great stocking stuffer. I love this champagne shimmer color!
Look out for my Fashion Gift Guide later on this week!