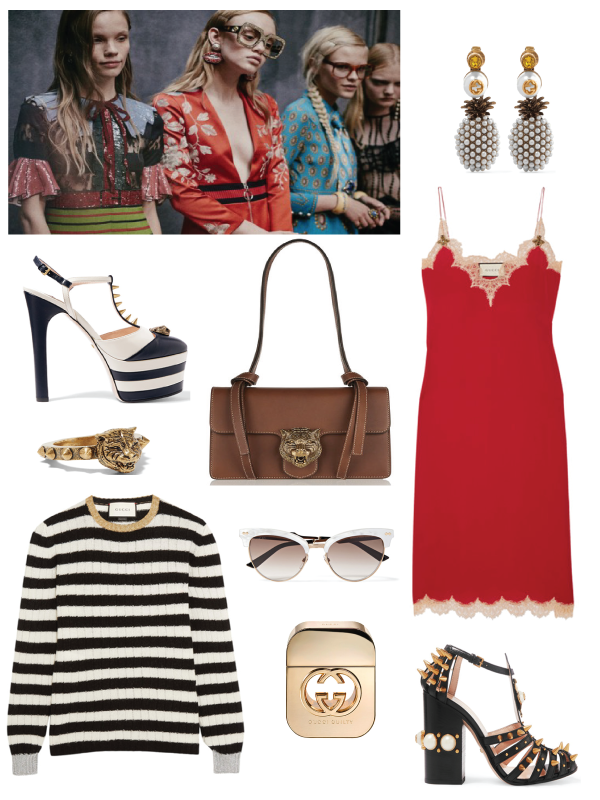 Good morning!  Since I am gaga for Gucci at the moment I thought I'd share a designer Spotlight with you.  Due to it's new "everything applies" look Gucci is one of the hottest fashion houses at the moment.
Gucci Lace Trimmed Silk Midi Dress
Gucci Striped Leather Platform Pumps
Gucci Linea G1 Embellished Leather Shoulder Bag
Gucci Gold Plated Pineapple Earrings 
Gucci Metallic Trimmed Striped Cashmere Sweater
Gucci Cat Eye Gold Tone Sunglasses
Gucci Embellished Cutout Leather Pumps
In 2015 the multi billion dollar brand gave their designs a facelift by hiring Alessando Michele as their new creative director.  It might be the best thing they've ever done! Michele's designs are creative, daring, young and eccentric. He claims he is constantly inspired because he is a "lover of all things."  Celebrities like Beyonce, Rita Ora, Elle Fanning, Cate Blanchett and Anna Wintour  have been spotted wearing the latest Gucci Threads.  As you can see, the age range of women wearing the brand is very broad.  I love that!
While I was in Beverly Hills recently I stopped by the Gucci store on Rodeo just to see how things were shakin'.  I was BLOWN away by everything! The ready to wear, shoes, bags and jewelry were all spectacular.  Everything was so good that I left with nothing….lol.  Don't you hate/love it when that happens.
In the photo above I am sharing some of my favorite Gucci items from their various 2016 collections.  I picked these pieces because they are beautiful AND wearable.  If you're gonna splurge this season, do it on Gucci. xo