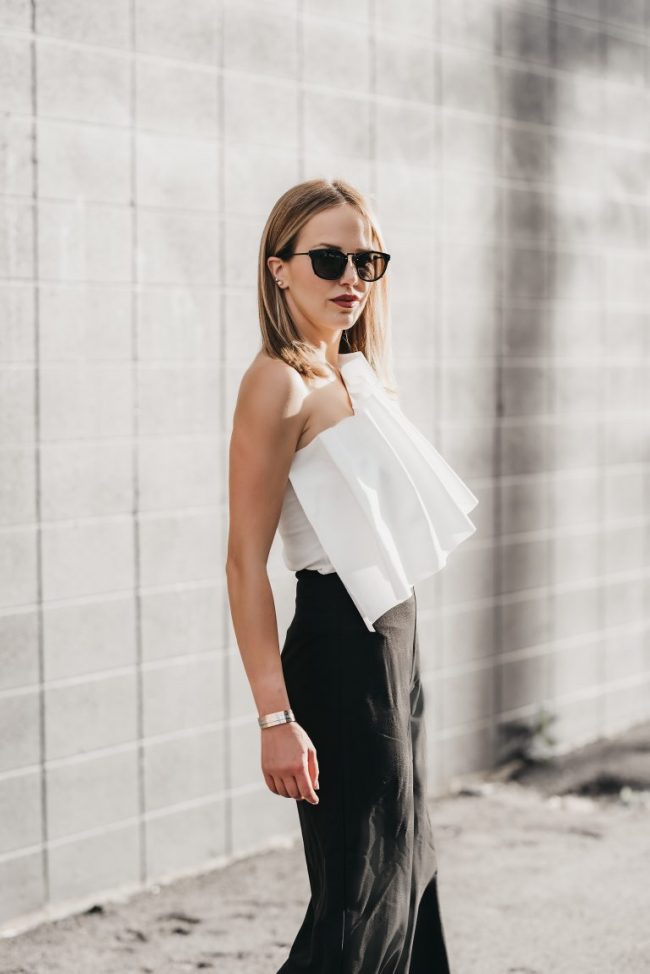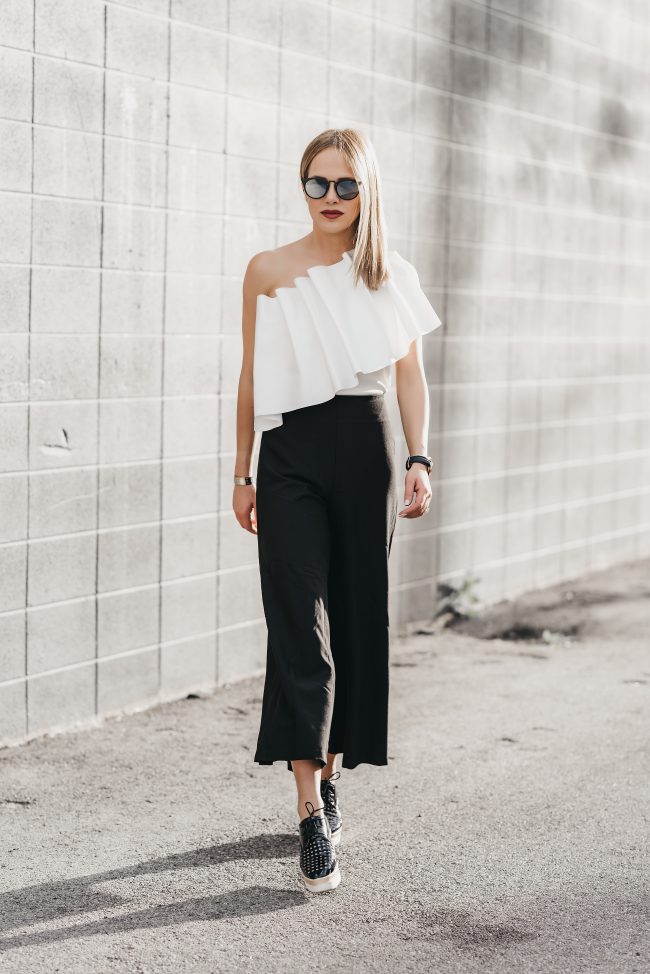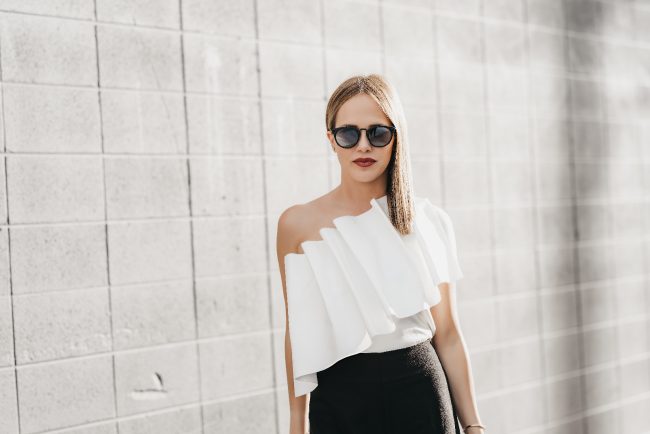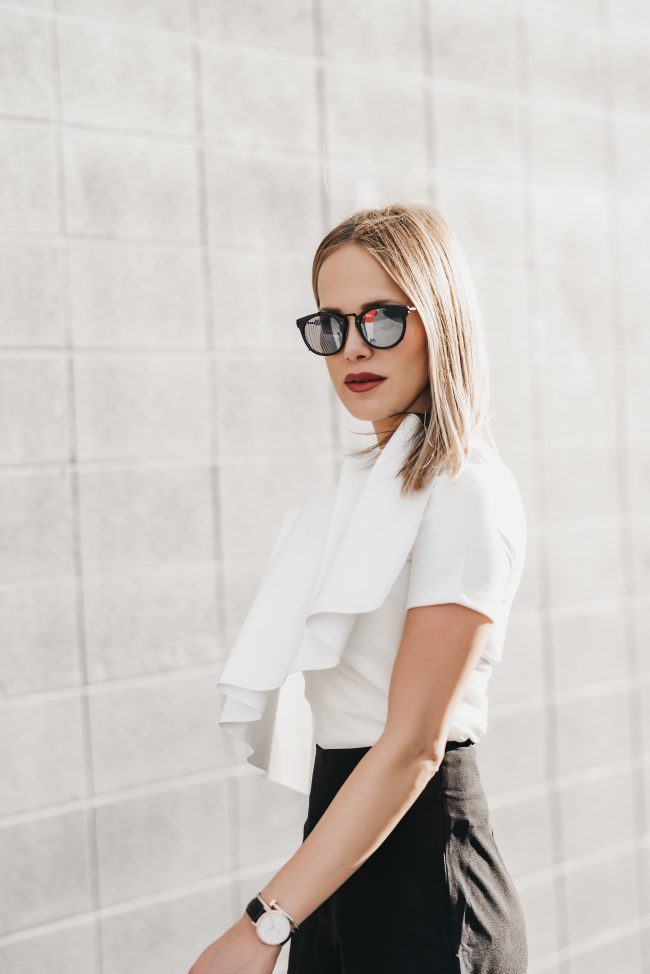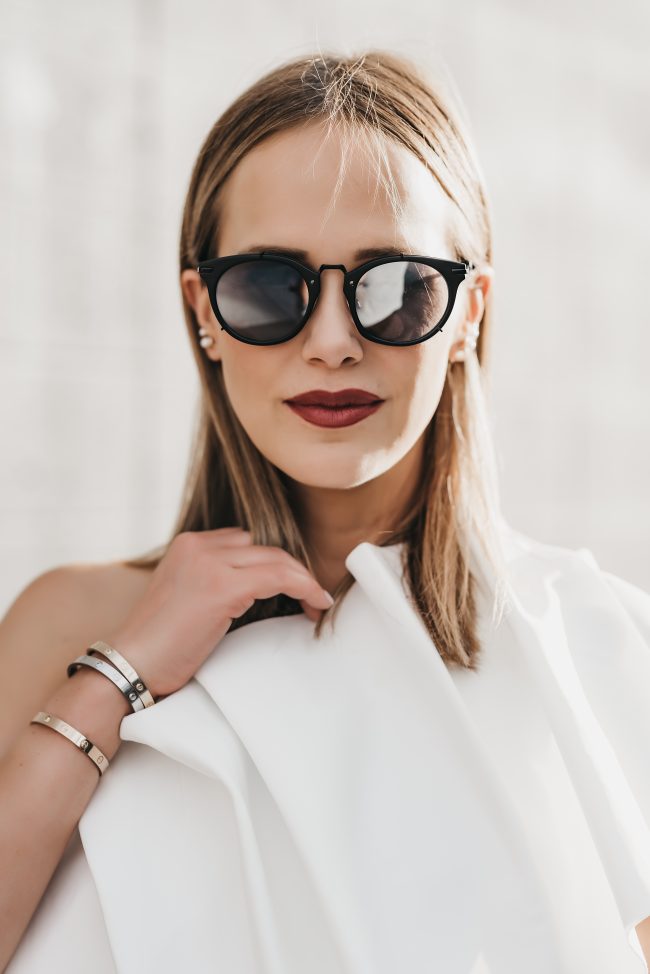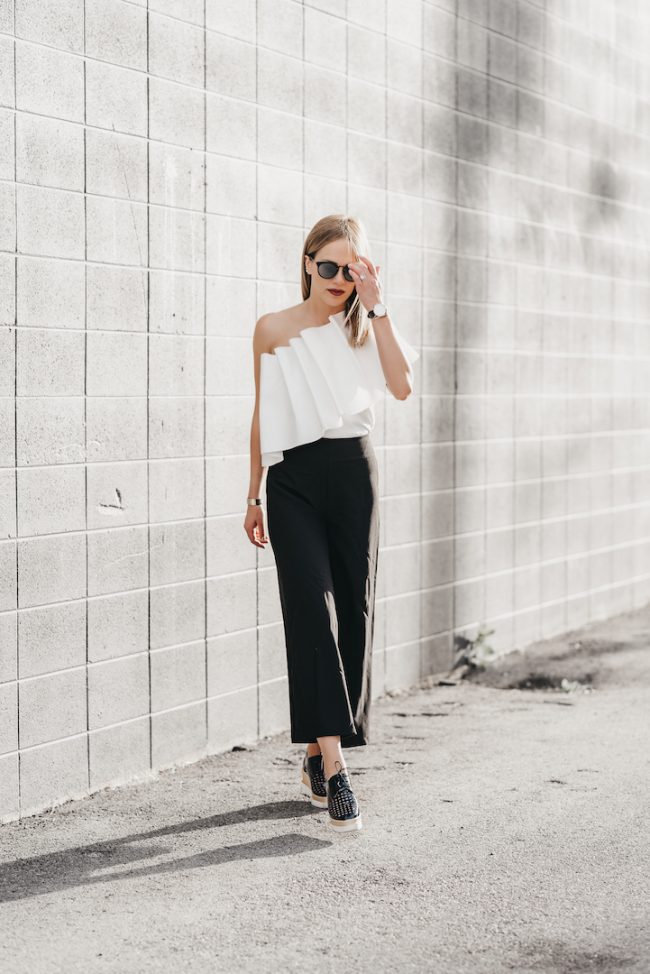 Good morning everyone! Today's post is titled How to Dress Designer under Ninety Nine Dollars because I will be sharing a couple of brands (highlighted below) that offers affordable couture looking statement pieces. Yippee!  The starving college student in me LOVES this stuff!
I just got back from beautiful Santa Barbara and Beverly Hills and am still on a high.  Why do I always feel so alive in SoCal…specifically LA?? Probably because as a creative type, I feel all of the artistic energy and it's so inspiring? Maybe because opportunities feel endless there and proximity is power?? Or perhaps all of the awesome nutritious (and non nutritious) food and coffee shop options?? Whatever it is, one thing I know is that I am an urban girl.  As Utah native I really appreciate nature, but my soul craves the energy of a big bustling city.
Today I am sharing this incredible ASOS Occasion one shoulder white ruffle top , black wide leg culottes and some Foster Grant Item 8 modern sunglasses. My lips are Bond Girl by Charlotte Tilbury.
I love the sleek modern vibe of this look.  You'd be surprised how much a wide leg cropped pant can update your wardrobe.  Even with a basic t-shirt, cropped wide leg pants or culottes can really give your looks a facelift.  When I am tired of my skinny jeans I always reach for my culottes.
How cool and couture looking is my white asos occasion one shoulder top?! It's so chic and under $50!  Like velvet, neoprene is one of those fabrics that looks expensive regardless of what you pay for it.  Asos Occasion and Asos White have some great affordable statement pieces that really look expensive. I suggest checking out both lines for any upcoming events or even just casual statement pieces.  I wore one of their occasion dresses to a black tie event and received SOOOO many compliments.  The dress seriously looked couture.
Thanks for reading up on How to Dress Designer under Ninety Nine Dollars! Please let me know if ou have any questions or suggestions.  Have a lovely day. XOXO