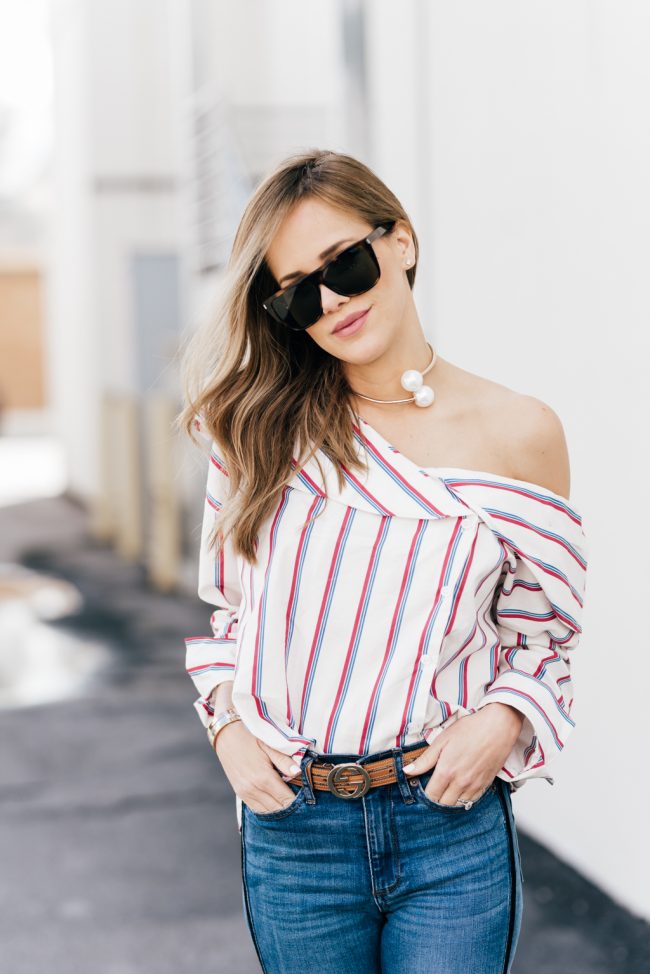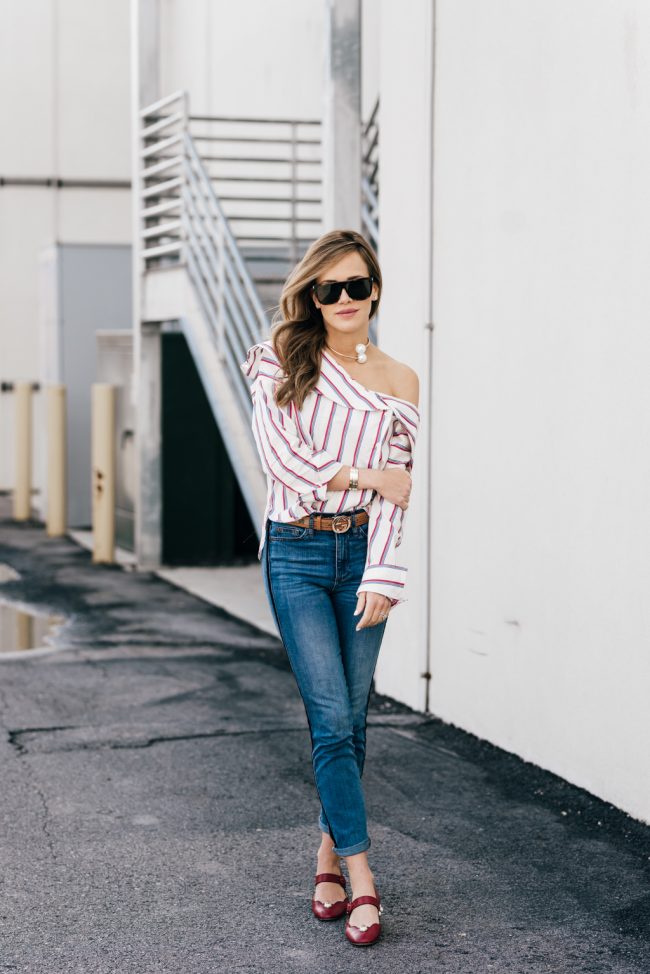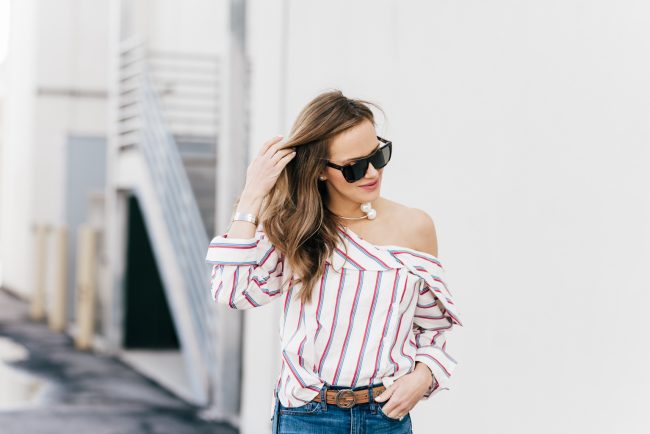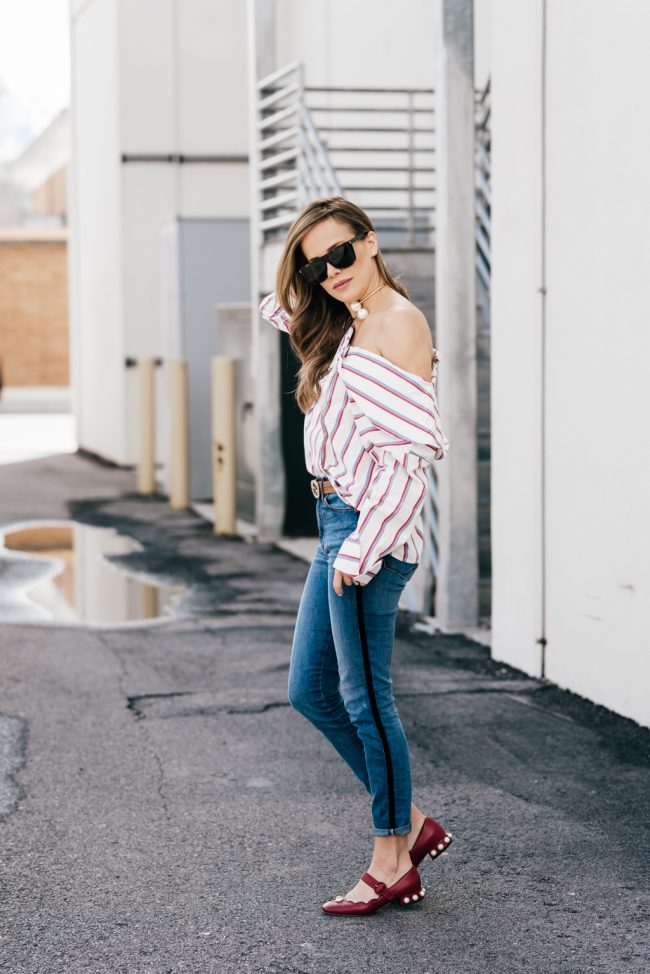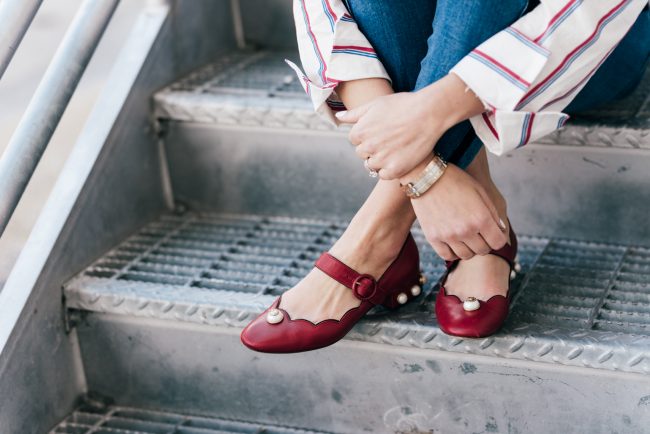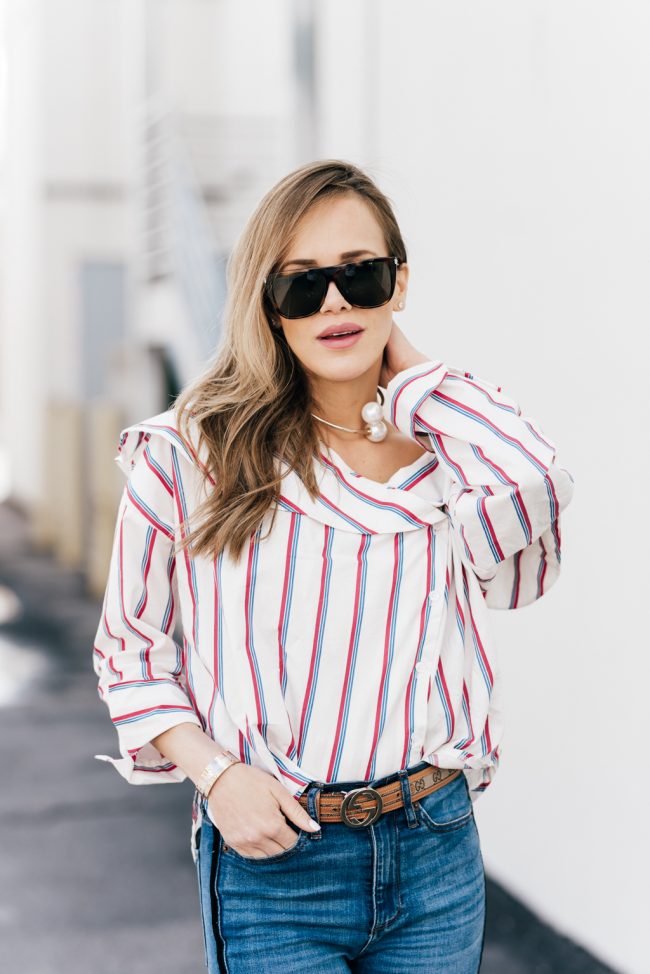 Friends, if you haven't noticed I am completely smitten with Storets these days.  I feel like I am repping the brand in every post lately. This Julia off one shoulder top is one of my aboslute Storets favs and is under ninety-nine dollars.  The other night I wore this top with both shoulders covered and it looked great too. It's nice to know there are options.  Ladies, to hear my tales of a NYFW Gucci psychic keep reading!
Storets Julia One Shoulder Top | Gucci Lexi Embellished Flats (similar) | Gucci Leather Scalloped Flats (similar) | Mother Stripe Leg Jeans (similar) | Hudson Tila Tuxedo Stripe Jeans | Gucci Logo Supreme Belt | Saint Laurent Flat Top Sunglasses
During last spring NYFW fashion week my girlfriends and I took a little trip to the Gucci store on 5th avenue for some much needed retail therapy.  While exploring all three levels of gorgeousness, a psychic/medium approached my girlfriend and me out of the blue.  She told me I was trying to decide whether I would end up in Utah or LA (been deliberating for the last 15 years…nothing changes) and that my girlfriend is going to have a baby within the year.  Well, she was right!  After that mystical moment, we were feeling especially  high on life and ended up doubling down on  some fantastic loafers and mary-janes.  Literally, we walked out with four fantastic pairs! The Mary-janes above, were the only babies in my recent future.  Somehow the medium lady missed that one.
I sound like a broken record, but I firmly believe the best outfits are made when high end and affordable pieces are combined.  I want all of my readers to have the opportunity to find something that makes them feel pretty regardless of the price. This is why I am committed to mixing price points.  As someone who has been a struggling college student to being able to buy luxury pieces, I truly understand the value of fashion for all walks of life.  I mean it when I say there is something for everyone on thefashionfuse.com!
Thanks for reading my tales of a NYFW Gucci psychic! Have a great day. xoxo