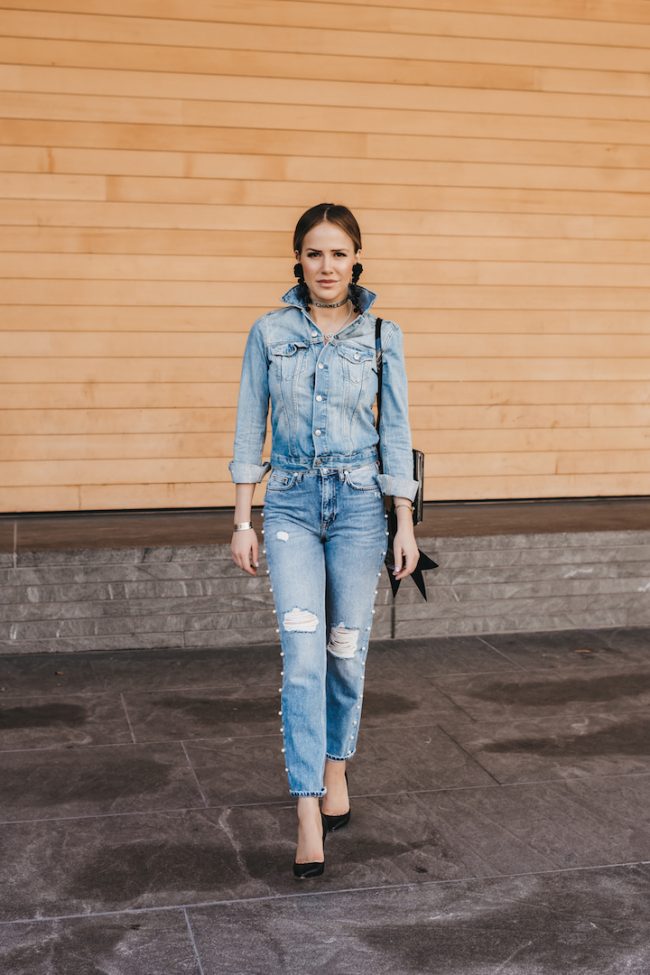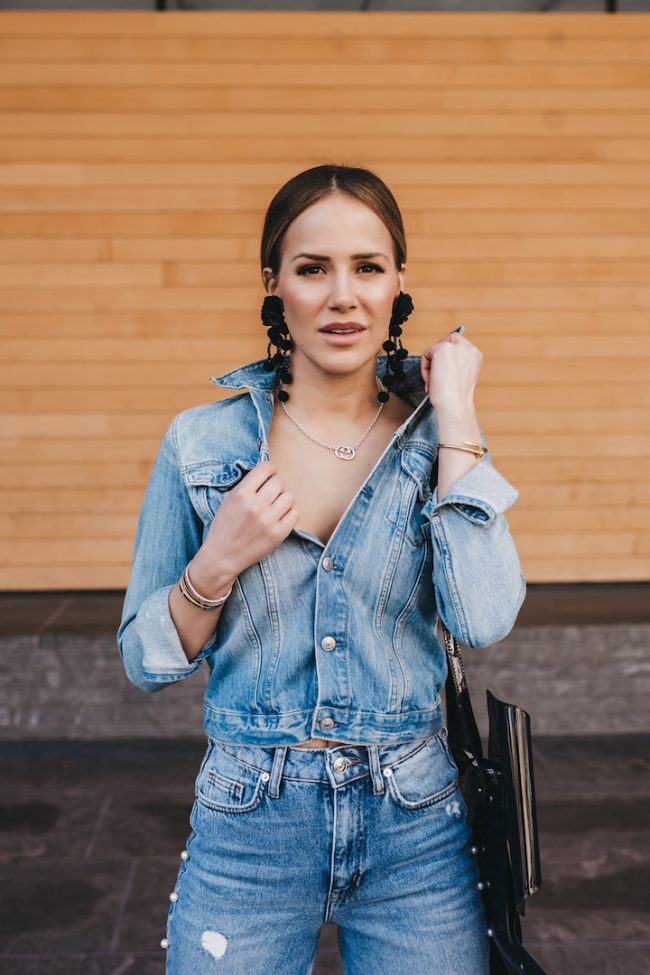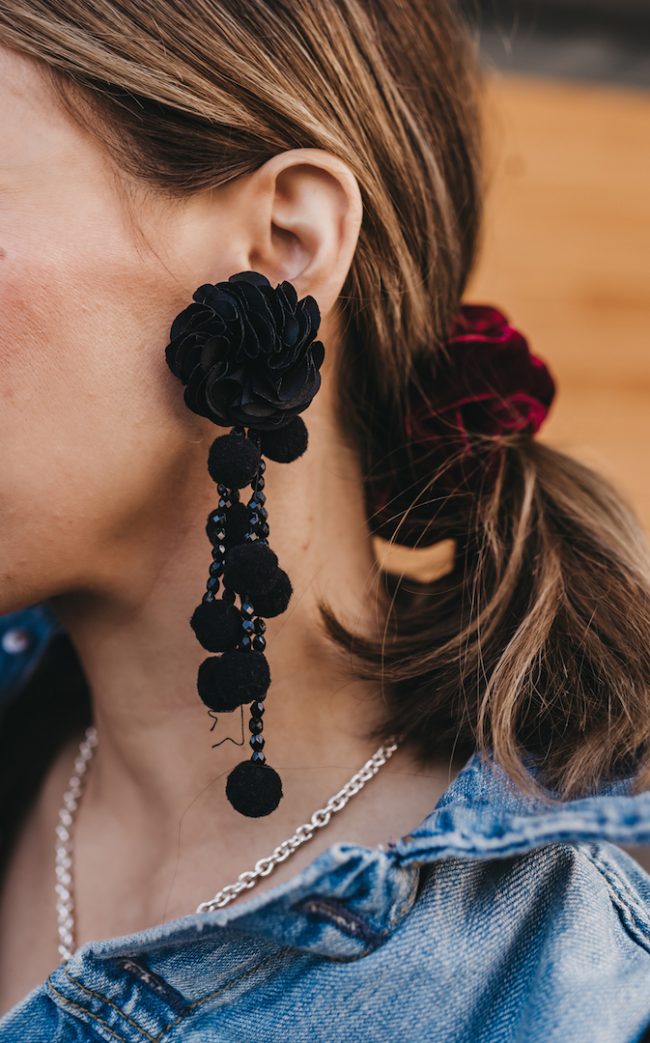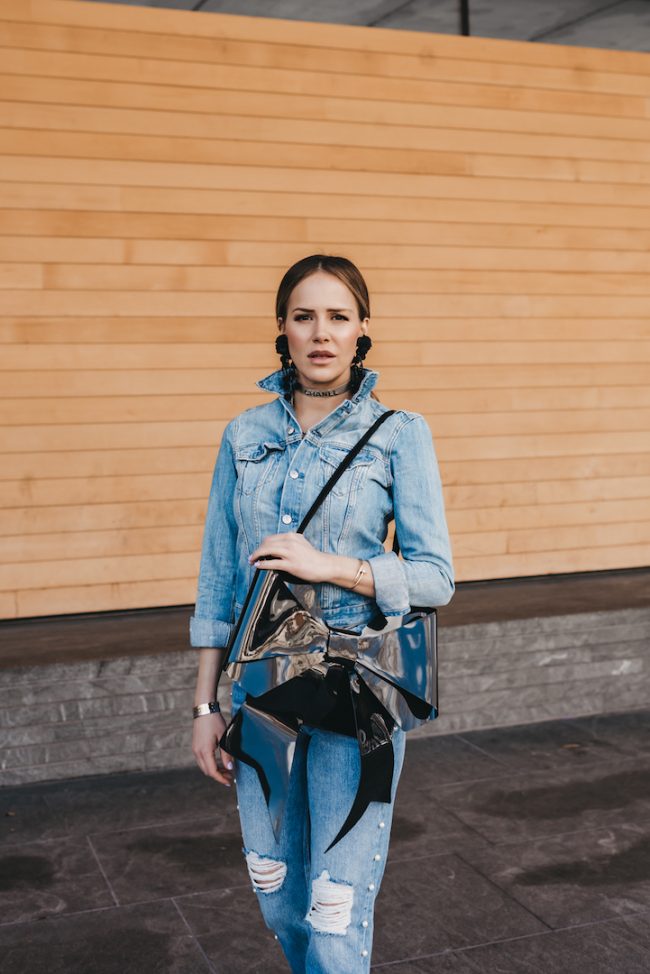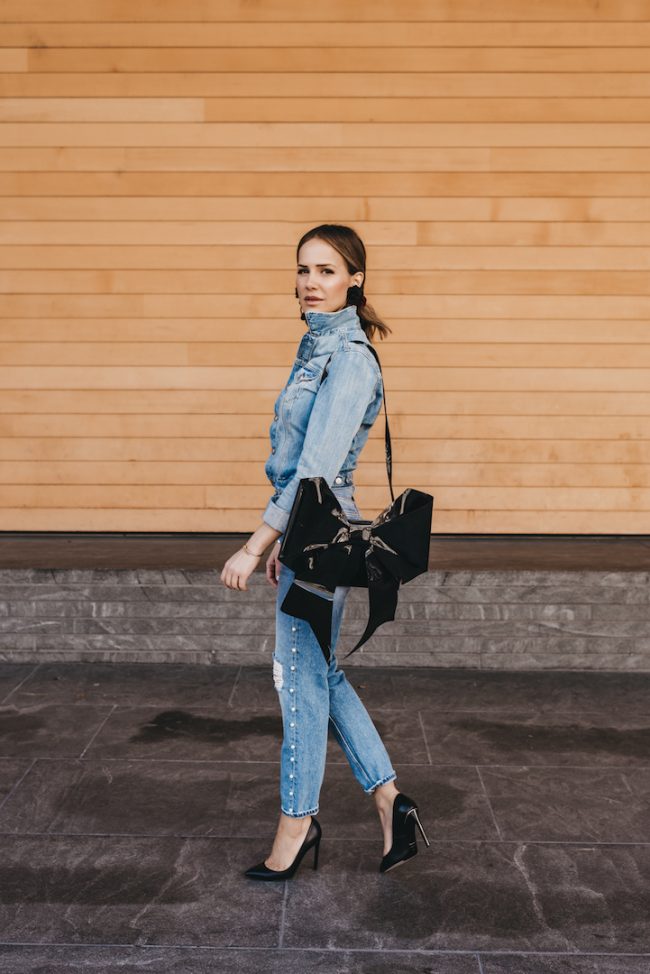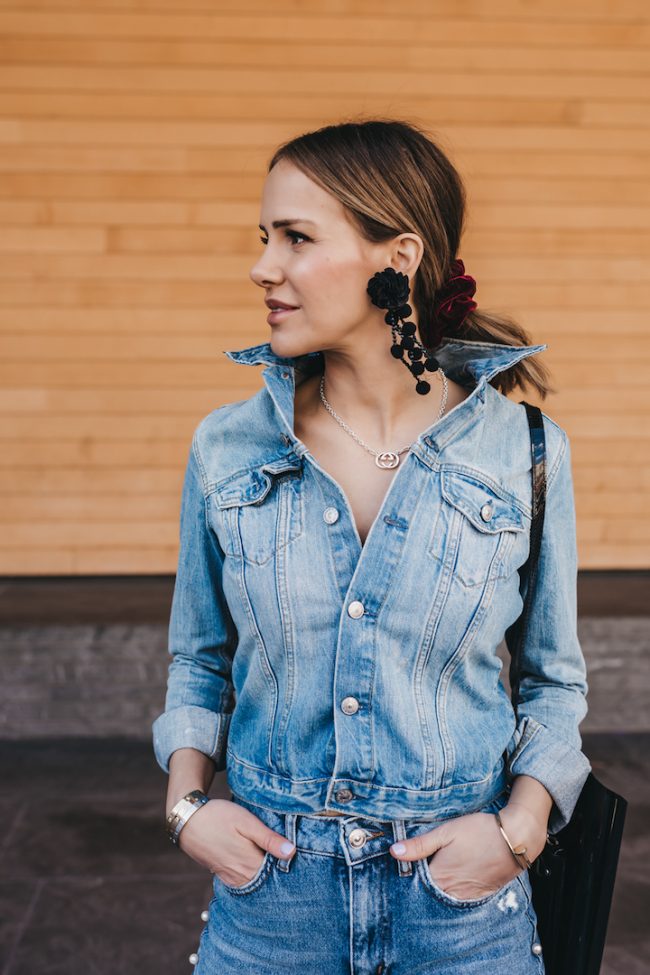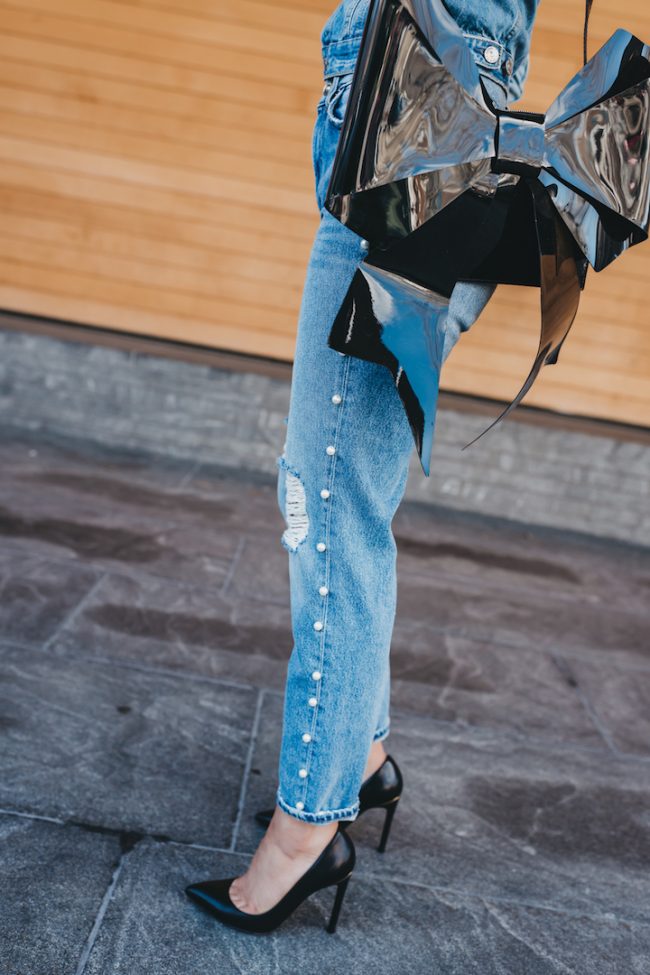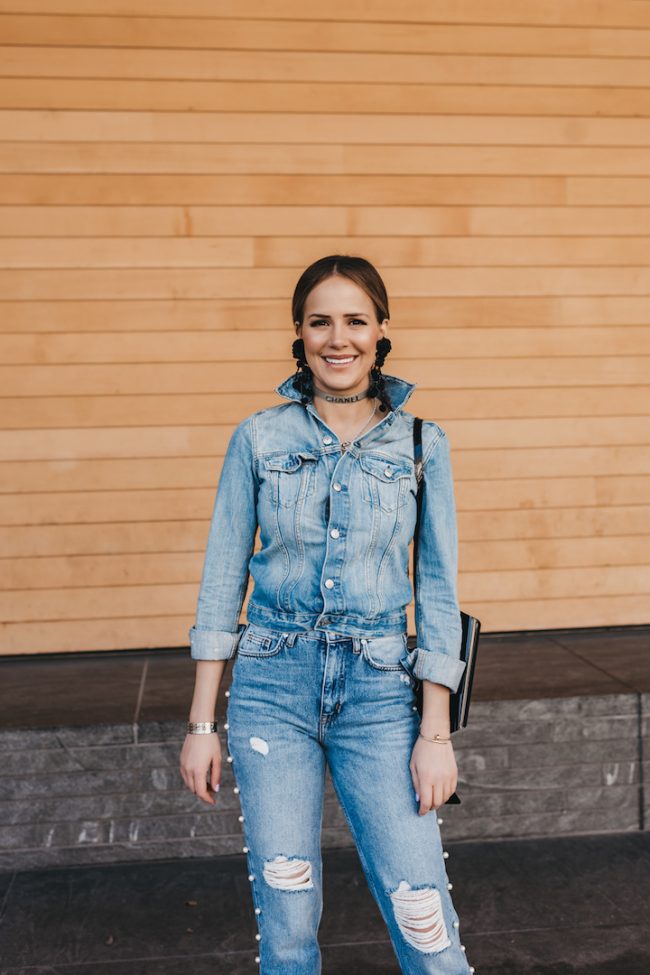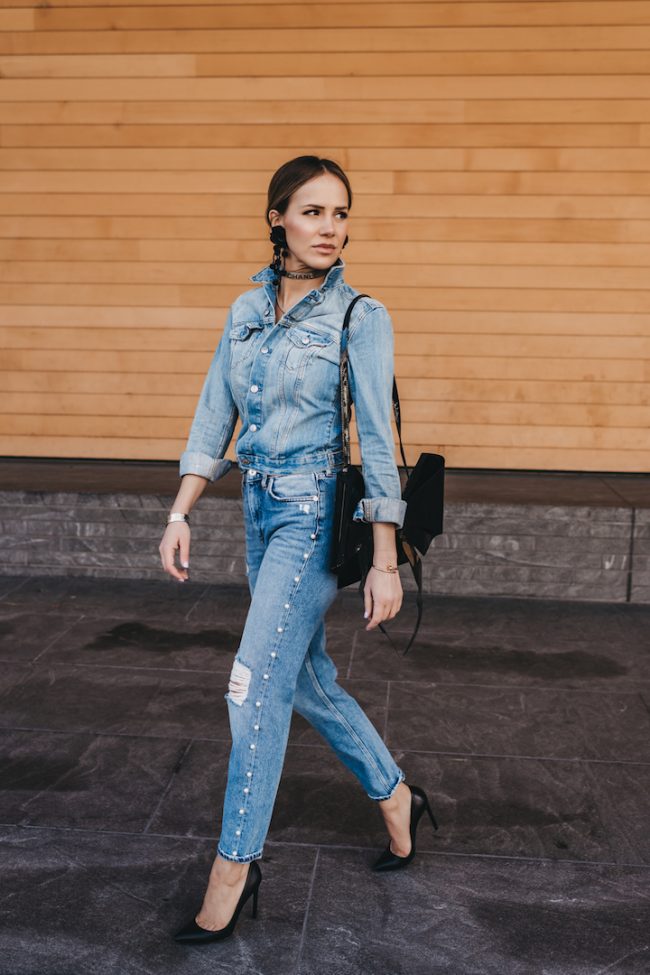 It's a new week and I am sharing an effortless 90s trend styled with pieces you already own! I am referring to denim on denim or double denim.  More specifically a denim jacket as a top with jeans.  It's unexpected and chances are you already own these pieces!
Shein Pearl Embellished Mom Jeans (under $20) | Shein Pearl Embellished Skinny Jeans (under $20) | HM Denim jacket | MM6 Maison Margiela Vinyl Bow Bag | HM Long Flower Earrings | Gucci Silver chain Logo Necklace
Marc Jacobs Makeup Shameless Foundation | Urban Decay HI-FI Shine Lip Gloss in Finish | Burberry Beauty Fresh Glow Highlighter in Rose Gold
My Weekend Was Rough
Friends, how was your weekend? Mine started great and then I got food poisoning (sobbing emoji).  Talk about humanity's greatest equalizer! If you think you're something special…food poisoning will humble you real fast…lol! Anyway, there is something funny about the whole thing, so I thought I'd share.  Probably TMI! I hope your weekend was much better than mine.
How to Style Denim on Denim 
So back to the effortless 90s trend styled with pieces you already own. I think when styling double denim in 2018 it's important to make sure your jeans are a current style (I linked two options above that are really affordable). Good solid accessories are also a must. Because there is so much blue going on with this look, I think earrings, a head wrap or a shoe that isn't blue or denim really adds the pop this look needs. Personally I love the idea of a popped collar, hair back and bold earrings.  Gold sculptural earring would also be awesome with this look.  But honestly, the options are endless.  For more ideas, just google denim on denim trend 2018.  You can also shop a wide variety of on trend jeans here and jean jackets here.
Happy Monday and have a lovely week! xoxo